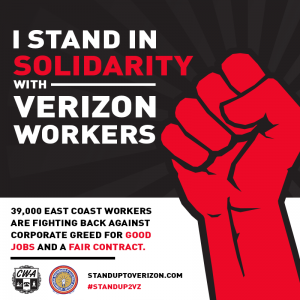 Previously I posted a story regarding the current standoff between the IBEW and CWA with Verizon in regards to its impact on the labor movement. This post will discuss how a strong unionized workforce impacts the customer service of subscribers.
The issue of customer service is fundamentally an issue of unionized labor. If the call centers are unionized, then the customers will get quality service. Furthermore, if the service is union-certified, it carries with it a level of insurance that can be the difference between life and death. That might strike some as a bit hyperbolic, but anyone who has ever dialed 911 knows exactly what I mean.
The company has engaged in a series of practices intentionally meant to break the union, including the roll-out of automation tools that have hindered the ability of unionized workers and shortened shifts. For readers who are Verizon customers, they probably have begun to experience instances when they 4 out of 5 times have quality customer service, but then 1 out of 5 times they have had awful service. This is not an accident, it is because the company has been redirecting calls to non-union contractor offices either at vendor centers within the US or in Latin America where the labor force has no access to the services they are supporting. This is particularly gruesome because these laborers are subjected to brutal work regimens for little money and can be disciplined if calls last longer than a few minutes.
One source told me "If Verizon really cared about working families, they wouldn't be paying basically what equates to slave wages in South America and minimum wages to folks in other vendor centers." Should Verizon break the unions, customer service, which they do not care about, would drop significantly and it would be equivalent to Time Warner or Comcast, who have totally non-union help lines. A source told me that s/he sees the work of non-union customer service reps in the files of people s/he works with. S/he said there are problem-solving steps skipped, wrong answers, and a lack of literacy in the products being serviced because these workers are so poor they do not have access to these first-world niceties.
But there are other issues to consider. Currently, our internet and cable in America is the highest-priced for the lowest-quality service in the developed world. In comparison to South Korea, a nation that only exists because of the American military presence in the Pacific, we are a joke. Even Google Fiber and municipally-owned internet services embarrass Verizon. This lack of quality can be attributed to what is labelled by many as the 'oligopoly'. In essence, the major cable companies have conspired to fix the prices and speeds of the utilities so to maximize profits and minimize user satisfaction. Our existing infrastructure is capable of much higher capacities but is intentionally prevented from reaching full potential by the corporations' collusion and greed. A unionized workforce helps serve as a final barrier to complete corporate hegemony and consumer robbery.
But also consider the aforementioned copper cable. Currently, Verizon is allowing the existing lines, some of which are literally wrapped in paper, to rot. This is so they can roll out a wireless service that would cut back the necessary unionized workers significantly. The proposed method would be Verizon installs on every house an LTE X antennae that receives the broadcast video and data signals. Leaving aside the obvious health concerns to be raised by flooding the area with that many electro-magnetic bursts of energy, there is the issue of quality of service. Wireless phone service is inferior to copper cable, with higher wait times and fewer amenities. Also, important health and safety services, such as LifeAlert and 911, do not always work with wireless in the same fashion they do with copper cable. And when you are in a health emergency where seconds can mean life or death, a little bit of lag can result in a lot of grief.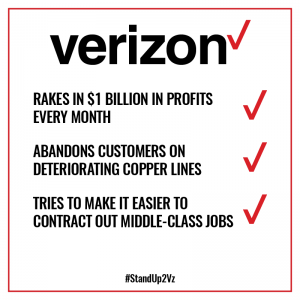 Some of the infrastructure for wireless calling that would end copper cable as we know it has already been put in place. For example, in New York, Verizon Voice Link has already begun the roll-out of wireless-based landline phone service in certain circumstances. The Verizon Quantum TV set-top boxes contain chips that are unactivated but would serve as wireless IP set-tops and contain technology that could be used by the cellular network. Verizon claims this is about everything from customer satisfaction to environmental concerns. But the bottom line is simply busting the union and maximizing profits from the established LTE-X network.
As previously mentioned, it is vital that both customers and non-customers reach out to both Verizon and the unions to express solidarity. If you are a member of a faith community, consider both offering prayers and raising funds for the union should they strike. If you are a community leader, express public solidarity. Write your local newspaper, post on social networks, make a public show of solidarity. This is a winnable battle if the people unite.
Read the first part in this series here.
Visit the Stand Up To Verizon website by clicking here.
The CWA can be reached at 401-275-0760.
The IBEW can be reached at 401-946-9900.