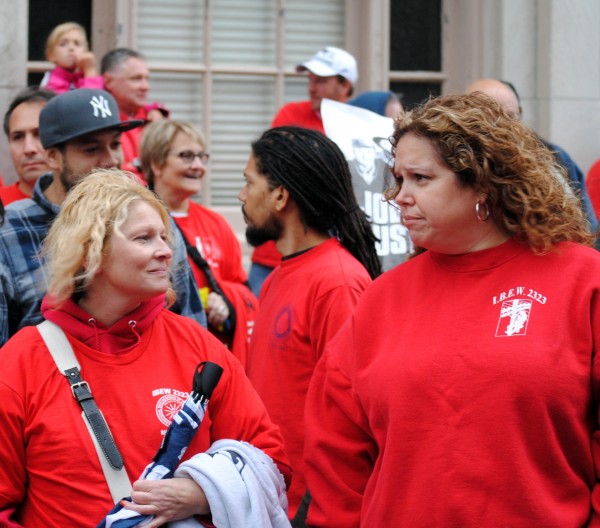 Verizon worker negotiations with the company have come to a major impasse and a strike now seems imminent, says a source close to the situation who asked not to be identified.
In an email to members, the IBEW said:
"The Business Managers informed us that the company has started the process toward a unilateral imposition of their contract terms," said the IBEW T6 Mobilization Committee, in an email to all Verizon union employees in New England. "Those terms include the elimination of job security.  The company has begun making "last and final" proposals and the situation is urgent."
As I have written in a previous series of articles, this is a tremendously important struggle that will impact the labor union movement in the private sector as severely as the coming Friedrichs Supreme Court case will affect the public sector. If Verizon is able to impose their will and defeat the union, this would have a ripple effect on the entire job market, threatening the basic coordinates of unionized middle class jobs.
This is going to be a hard and long battle, but the stakes are too high to sit this one out. Simultaneously, the UAW has just recently averted a strike with Fiat Chrysler. United Steel Workers are currently facing a lock-out with Allegheny Technologies Incorporated in New Bedford and other plants across the country. Mayor Elorza continues play a cruel game with the firefighters union while rolling out his corporate charter school agenda to bust the teachers union. United Nurses and Allied Professionals have been engaged in continuing negotiations over a contract with Lifespan Hospital Network.
These are not isolated incidents or random occurrences. Both the Democratic and Republican Party are collaborators in the neoliberal ideological apparatus that intends to destroy the union movement, the middle class, and ultimately the hard-earned gains for the social safety net made during the New Deal and Baby Boom periods. It is impossible to deny that there are still some strong pro-worker figures in the political landscape that reject this ideology, but they are few and far between. With a career-minded politician like Gina Raimondo in power and hungry still for ascension to higher prospects in Washington DC, it is clear that a pillar of American democracy is under attack.
Visit the Stand Up To Verizon website by clicking here.
The CWA can be reached at 401-275-0760.
The IBEW can be reached at 401-946-9900.