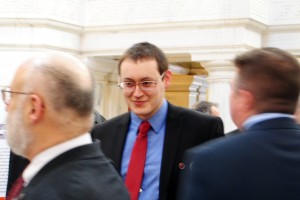 He exposed the illegal campaign tactics of the NRA. He leads the Progressive Democrats of Rhode Island. He's a frequent contributor to this blog. And – hopefully – next Sam Bell will add to his resume state representative from District 4. With news that soon-to-be-former House Speaker Gordon Fox won't be seeking re-election, Bell has announced he will run for Fox's old seat.
"Our state needs a fresh Democratic voice on Smith Hill," said Bell in a widely distributed press release. "As Representative, I'll fight to invest in our schools and our workforce, and I'll be an unfailing advocate for transparency and sunlight at the State House."
Bell has been a frequent critic of conservative Democrats on Smith Hill. Most recently he called attention to the austerity ideas being put forward by Gina Raimondo and as well as by legislative Democrats to pay for the Sakonnet River Bridge. But he is best known for exposing the NRA's "illicit" political action committee activity. Bell learned their practice was illegal and the NRA paid a $63,000 fine, which he says is the second largest campaign fine in state history.
"I'm glad to have stood up for the people of Rhode Island against the powerful, out-of-state gun lobby," he said in his statement. "I'll continue to protect my constituents against the forces of special interests on Smith Hill.
And Bell will likely be the only RI Future contributor vying for the District 4 seat at the State House. Mark Binder, who challenged Fox in 2012 and occasionally posts to RI Future, indicated he will NOT run again in an email to supporters today.
"Let me be blunt," he wrote. "Any representative who votes for the sort of "Leadership" that enabled Gordon Fox to abuse his power is betraying the interests of citizens. We, the people of Rhode Island did not elect you to submit to the whims of lobbyists and special interests and corporations. We elected you to serve the people.
"For too long the political conversation has been framed by special interests. The purpose of our State Government is not to create jobs, however much that may be a method for getting votes. The purpose of our State Government is to create an environment where people can live and work and thrive. This means protecting our landscape and natural resources, paying for education that teaches beyond tests, and offering powerful reasons for people to live and work here."
Ed. note: An earlier version of this post incorrectly said Binder would run due. He is not.