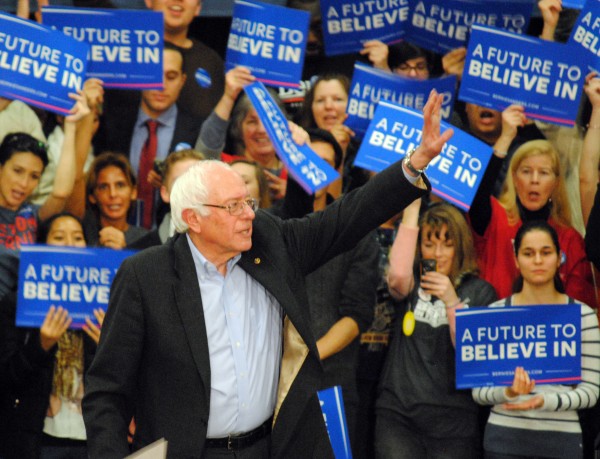 Now that we're halfway through the electoral calendar for the Democratic primary, it's a good time to take a breath and review what we've achieved so far. Up until this point, despite some tough losses, Bernie has done incredibly well, much better than all projections. Michigan was an inspiring win. Ohio was a bitter defeat. But the electoral map going forward looks much more favorable to Bernie.
Is it favorable enough to close Clinton's 300-delegate lead? We'll see. It will be difficult for the Bernie campaign to make up that deficit, but if he can gather a few key, big-margin wins, then it is entirely possible for him to win the nomination. If not? There's still plenty to be excited about, and there are plenty of signs that the political revolution is strong going forward, even if that future doesn't include Bernie Sanders as President of the United States.
One such sign is the emergence of "Sanders Democrats," or progressive Democratic candidates for congressional and state legislature seats. Zephyr Teachout and Pramila Jayapal are congressional candidates (New York and Washington, respectively) that have endorsed Bernie Sanders and, in turn, have been endorsed by Democracy for America. Debbie Medina, a Brooklyn-based Democratic Socialist, is also running for state legislature in New York. And Shawn O'Connor, a candidate for congress in New Hampshire, recently stated in a TIME magazine article that he hopes "to be a member of a class of Sanders Democrats that gets elected in the fall."
Sanders Democrats. That's the name of an up-and-coming progressive coalition that aims to enact Sanders-style policies in all levels of government, and particularly in Congress. If that coalition gains the votes of Bernie's biggest supporters–young voters, the most progressive voting bloc that is quickly growing–then we are likely to see a progressive shift in government, which is exactly what Bernie's political revolution is aiming to achieve.
That is a sign that the revolution is alive and well, and that it continues to grow. But it isn't a sign to stop phone banking! If we keep Bernin' up the phones to get out the vote, we could very well see a Sanders Democrat coalition in Congress and a Bernie Sanders Presidency. To have both in place together would be the best possible outcome for this revolution.