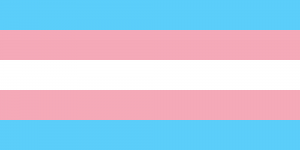 Have you ever wondered what it means to be trans* (the term used to identify transgender, transexual, gender queer and gender non-conforming folk)?  Is this a topic that intrigues you yet you have no idea about how to engage the subject without sounding either ridiculous or prejudiced?  Perhaps an evening at the theater will help illumine your concerns!
Derived from research and oral histories conducted by Steven Pennell, Frank V. Toti, Jr.'s work-in-progress play TRANS* will make its debut on July 23 at 8 pm and July 25 at 7 pm at the Paff Auditorium in the URI Feinstein Providence Campus at 80 Washington St.  Performed by Pennell and Cynthia Glinick and featuring spoken word by Cody Suzuki, the show is part of the Providence Fringe Festival taking place July 21-25.
Mr. Toti holds an MFA in Theatre and Society, as well as an MA in History, and has written nine plays, five of which were derived from oral history.  Mr. Pennell is the Coordinator of Arts and Culture at URI Providence Campus as well as an exhibit curator, actor, theater director, oral historian, and university lecturer.  Ms. Glinick is an actor, journalist, and performance artist who has appeared in shows across the region.  Mr. Suzuki is a poet and spoken word artist.
Trans* folk have been vital parts of the LGBTQQI liberation movement who have, sadly, been left behind while cis-gendered members of the community have made advances.  Trans* folk face high rates of job and housing discrimination as well as physical threats.  Substance abuse and suicide rates are also much higher in this community than in others.  It is also important to recall that it was a trans women who ignited the modern LGBTQQI liberation movement when, in June 1969, a patron at the Stonewall Inn in Greenwich Village, New York refused to accede to police harassment during a routine raid on a mafia-owned gay bar.