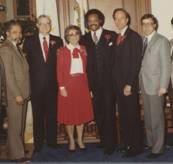 Secretary of State A. Ralph Mollis is honoring Joe Garrahy with an on-line tribute that includes photos of the late Governor with celebrities such as Jesse Jackson, Pope John Paul II and President Reagan as well as everyday Rhode Islanders like Boy Scout and Girl Scout troops.
"We could think of no better way to honor the Governor than to share his legacy with the state he served so admirably. We hope this reminds long-time Rhode Islanders of his achievements and introduces the younger generation to a man who was a role model for us all."
Many of the items in the electronic photo album are also on display at the State Archives through the end of February. The exhibit is open to the public weekdays from 8:30 a.m. to 4:30 p.m. at 337 Westminster St., in downtown Providence. Free validated parking is available at the nearby In-Town Parking lot.
In addition to hosting exhibits, the State Archives is also home to tens of thousands of historic artifacts such as the state's copy of the Declaration of Independence, the 1920 law granting Rhode Island women the right to vote and a circa-1930 voting machine.