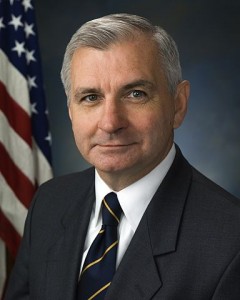 Despite a defeat in the Senate today, Jack Reed said on the chamber floor after Republicans beat back his proposal to extend long-term unemployment insurance, "I will not be giving up on this matter."
Reed, Rhode Island's senior Senator, sponsored the bill and led the charge among Democrats to extend federal unemployment benefits for 1.3 million Americans for another three months. While Reed was confident the bill would pass earlier this month (You can listen to my conversation with Sen. Reed on his thoughts about a Senate vote on Jan 3 here.) Or just the audio here:
But then the issue seems to have devolved into procedural politics.
Here's what Senator Reed said on the Senate floor earlier today:
Mr. President, I rise today to express my severe disappoint that we have been blocked from moving forward with this legislation.  There are about 1.5 million Americans who have lost unemployment insurance since December 28.  And people will continue to fall off the cliff, about 70,000 a week, until we renew these benefits.

This is an emergency.  That's why it's so urgent that the Senate extend this emergency program today.  Indeed, December's employment report shows that the economy still needs support.  While the unemployment rate dropped to 6.7 percent, the economy isn't producing enough jobs and folks are leaving the labor force.  As long as this program is expired I expect this trend to accelerate -folks will stop looking for and finding jobs.

We need to keep the economy moving forward and creating jobs; and extending these benefits is part of that effort.

I hope my colleagues recognize this and recognize that the proposal they filibustered is a major concession to many of my Republican colleagues who have said they don't want to consider this as emergency spending, that they want to reduce the duration of benefits, and they want policy changes.

That said, I think it is important to make it clear for the record the steps our side took on this issue.

First, we proposed an emergency spending extension of current law, just as we did last year and in many past extensions, but many on the other side said "no."

Then, our colleagues on the other side of the aisle demanded the bill be paid for.  When we agreed and suggested closing tax loopholes – egregious loopholes that should be closed anyhow – like ones that encourage jobs to be shipped overseas   they said "no".

Next, we suggested a mix of loophole closures and spending cuts, and they said "no" again.

So we came up with a pay-for that was endorsed in the bipartisan Murray Ryan budget, and they said "no" again.

And I'd like to remind my colleagues again that this program has traditionally been considered emergency spending.  Indeed, the White House has noted that "fourteen of the last 17 times in 20 years that it's been extended, there's been no strings attached." And that the five times President Bush extended this program there were no offset strings attached.

Then, my Republican colleagues sought reforms and reductions to the program, and so we put forward a proposal to do just that.

My Republican colleagues also requested the ability to offer amendments, which is fair, so we said "yes."

So I'd like to underscore the point we've made major concessions.  This emergency and temporary program would have been paid for by locking in reductions in mandatory spending permanently.  The duration of the extension and the duration of the amount of aid to the long-term unemployed would have been reduced.

We had even incorporated an idea from Senator Portman that relates to fine-tuning the concurrent income support payments under unemployment insurance and disability insurance – this proposal causes serious pause for me and others, especially in terms of perhaps disincentivizing individuals with disabilities from working, which is a long-time principle of our disability policy – which is why I introduced a second degree and substitute amendment to address this very issue.

We've been debating the extension of extended unemployment compensation since December, when my colleagues on the other side of the aisle were willing to and ultimately let UI expire.  We've been working with them since that time to renew these vital benefits – vital to the individual and their family and vital to the economy as a whole.  In this effort, we've made tremendous permanent policy concessions for an emergency and temporary program, and offered an amendment process.  This is what they have asked for.  Unfortunately, some of my colleagues on the other side of the aisle can't take yes for an answer and have filibustered this legislation to extend UI.

And for some further background,  yesterday there was a new demand to re-write the underlying proposal in ways that will add further impacts on the out of work, students, the disabled, and a host of others beginning in 2015.

Mr. President, I have been in the minority in the Senate.  I have been here when there was a Republican President.  I have seen the Senate work well and not so well.  Today, will be one of those "not so well" days when a great deal has been offered to the other side of the aisle, but for a variety of reasons they cannot get to "yes."

I will not be giving up on this matter.

Millions of Americans are out of work and there are almost 3 job seekers for every job vacancy.  They cannot be left in the lurch.  They deserve better and I stand ready to work with anyone on a rational proposal to help them. We will keep working on this and hopefully the other side will find a way to let us move towards an up or down vote on extending these benefits, which would help over 4 million Americans over this year and put our economy on much better footing.
Sen. Reed on unemployment benefits defeat: 'I will not be giving up'

,