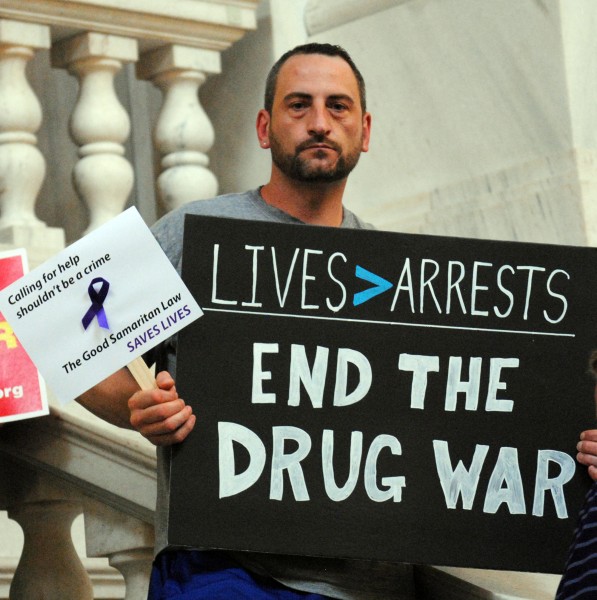 "We applaud, and are deeply grateful to, the Senate for its quick action today in making the reinstatement of the [Good Samaritan Overdose Prevention Act of 2016] the legislative priority of the first week," said Steve DeToy of the Rhode Island Medical Society, Rebecca McGoldrick of Protect Families First and Steven Brown of the ACLU of Rhode Island in a joint statement.
"Reinstating this law will save lives, and is an essential step in addressing the dire overdose epidemic Rhode Island is grappling with. Furthermore, it is a step in the right direction of how we should address drug use and addiction. For too long we have made it the task of the criminal justice system to address these issues, and this approach has been costly, ineffective, and destructive. It's time that we handle drug use and addiction as a public health and medical issue and put saving lives above making arrests. The Good Samaritan bill makes major strides towards that goal by giving people in the community greater confidence that they will not be arrested if they seek medical care.
"In that regard, we are hopeful that in considering this legislation next week, the House will not only pass it speedily but will also consider expanding it to cover other drug-related offenses as well."
The bill was introduced by Sen. Michael J. McCaffrey (D-Dist. 29, Warwick)."Identical legislation (2016-H 7003) submitted by Rep. Robert E. Craven (D-Dist. 32, North Kingstown) will be taken up by the House Judiciary Committee on Tuesday at the rise of the House in Room 101 says a General Assembly press release. The bill exempts "from liability any person who administers an opioid antagonist to another person to prevent a drug overdose. It would further provide immunity from certain drug charges and for related violations of probation and/or parole for those persons who in good faith, seek medical assistance for a person experiencing a drug overdose."
Governor Gina Raimondo is expected to sign the bill and also issued a statement. "The Good Samaritan Overdose Prevention Act of 2016 is an important tool to combat this public health crisis. Rhode Island's response to the overdose crisis must first and foremost be focused on saving lives. I applaud the General Assembly for their action to encourage Rhode Islanders to call 911 in an overdose emergency."
When Speaker Nicholas Mattiello abruptly ended the legislative session last year the Good Samaritan law was one of the most important and vital pieces of legislation not to pass. The original bill had a sunset clause, but has been so successful in saving lives its reinstatement was considered a given. Activists were shocked, lives were put at risk.
Mattiello considered having a special Fall legislative session to discuss the PawSox deal, truck tolls and the Good Samaritan Act, but that Fall session never came to pass.
Senate passes Good Samaritan Act, House takes it up on Tuesday

,