For the eighth year the Rhode Island Interfaith Coalition to Reduce Poverty held a vigil at the State House near the beginning of the legislative season to, in the words of House Speaker Nicholas Mattiello, "remind all of us in the General Assembly of how important it is to keep the issues related to poverty at the forefront of our agenda."
The vigil was attended by representatives from a multitude of faiths. Governor Gina Raimondo, Speaker Mattiello and Senate President M Teresa Paiva-Weed all spoke briefly to the crowd. The keynote was delivered by Bishop Herson Gonzalez of the Calvary Worship Center in Woonsocket.
Maxine Richman, co-chair of the RI Interfaith Coalition to Reduce Poverty (Coalition) spoke first, outlining the 2016 Advocacy Platform for the group. She began with a sobering statistic. 14.3 percent of Rhode Islanders live in poverty. That rate climbs to 19.8 percent when we talk about children specifically.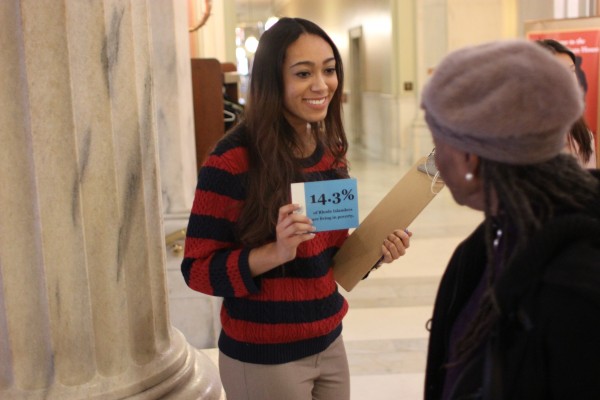 "A 14.3 percent poverty rate is the story for this year," said Richman, "but it need not be the story for next year."
The coalition believes that all Rhode Islanders are entitled to affordable housing, nutritious food, accessible healthcare, equitable education and work with decent wages.
Though the General Assembly raised the Earned Income Tax Credit (EITC) last session, something both Paiva-Weed and Mattiello touted as a great success in their opening remarks Tuesday, RI's present 12.5 percent rate is a far cry from Connecticut's EITC of 27.5 percent or Massachusetts' 23 percent. The Coalition is asking the General Assembly raise the RI EITC to 20 percent.
Channeling yesterday's loud rally, and on the day that Governor Raimondo has officially broken her campaign promise to issue an executive order allowing undocumented workers to obtain driver's licenses, the Coalition asked state leaders to take this important step.
Right now low and no income Rhode Island families with children are eligible to receive cash assistance for a maximum of up to 24 months within a five year window. A mother with two children is eligible to receive $554 a month for up to 24 months.  When the 24 months are done, the family is cut off, leaving children to live in crushing poverty. The coalition would like to end the 24 month limit.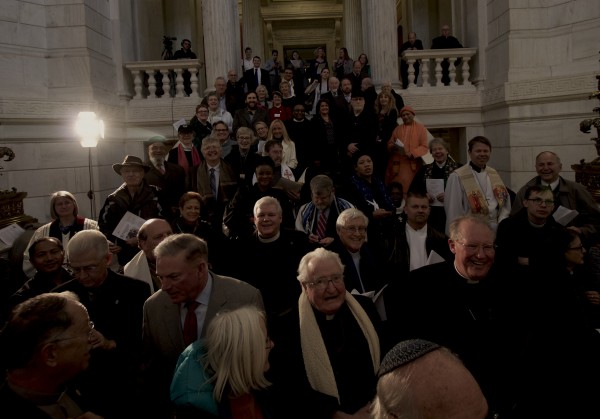 Also, as they have asked nearly every year and to no avail, the Coalition would like the General Assembly to take action to reform PayDay loans. This is unlikely as long as Speaker Mattiello continues to pretend that "arguments against PayDay lending tend to be ideological in nature."
The coalition would also like to see an expansion of Child Care Assistance and Early Childhood Education. as of Fall, 2014, for instance, only 34 percent of eligible children were enrolled in Head Start, "with many centers maintaining long waiting lists."
The Coalition further wants to reduce out-of-school detentions which predominantly target students of color and feed the school-to-prison pipeline. They would also like to expand opportunities for workforce foundational skills and occupational training.
The RI Coalition for the Homeless (RICH) needs adequate funding to implement Opening Doors RI, and would like state leaders to seek a $100 million affordable housing bond.
The Coalition also backs efforts to prevent domestic abusers from accessing guns, a bill that died in committee last year to the consternation of supporters and the embarrassment of the General Assembly.
The Coalition would like to see adequate funding for Senior Centers and lastly, the Coalition wants the General Assembly to maintain the current RIPTA Senior/Disbabled Fare Program, recognizing that balancing the budget of public transit of the backs of the most vulnerable is simply cruel. Paiva-Weed was the only state leader to state that she would work to make this happen. Raimondo vowed to make RIPTA "affordable" which is apparently a number other than free.
"These all sound good, but where do we find the money?" asked Raimondo.
"I am very concerned about imposing a fee on elderly and disabled RIPTA passengers," said Paiva-Weed, "and I am committed to looking at alternative funding."
Attempting to explain his statement at last years Interfaith Poverty Vigil where he said that he wants to eliminate the social safety net, Speaker Mattiello spun a vision of a Utopian future world. "When we get the economy to a point where everybody's thriving," said the Speaker, "every single family has a wage earner that is successfully feeding the family, and everybody is doing well and is well fed… families are happy… that will be the day we don't need a safety net. And at that time our safety net will justifiably be smaller."
Here's Bishop Herson Gonzalez's keynote address.
Note: I was fortunate today to get permission from Rachel Simon to run her pictures of the event. So all these pictures are under her 2016 copyright.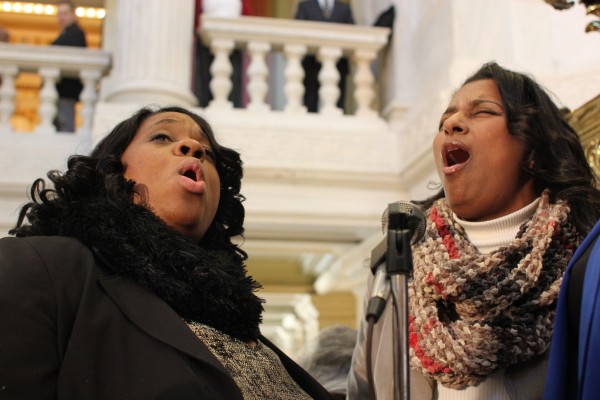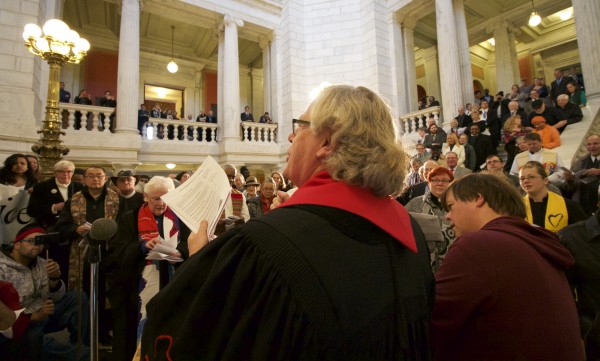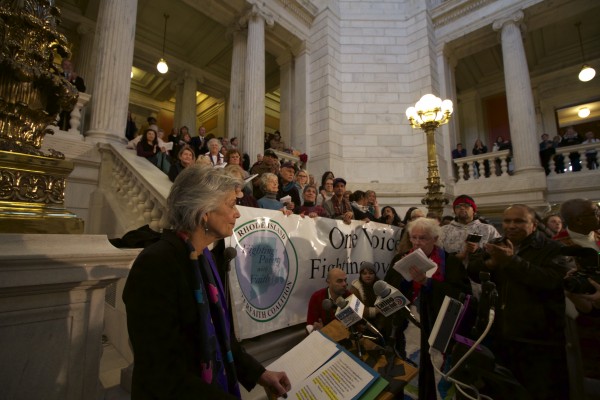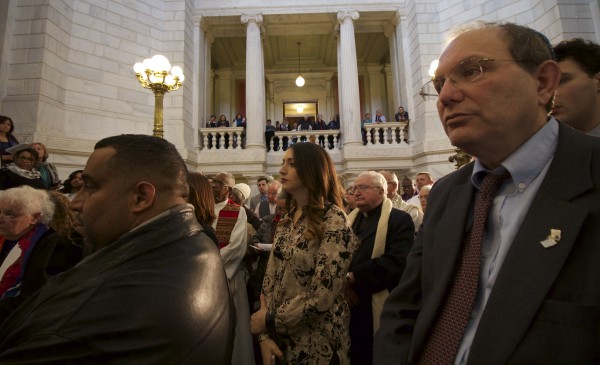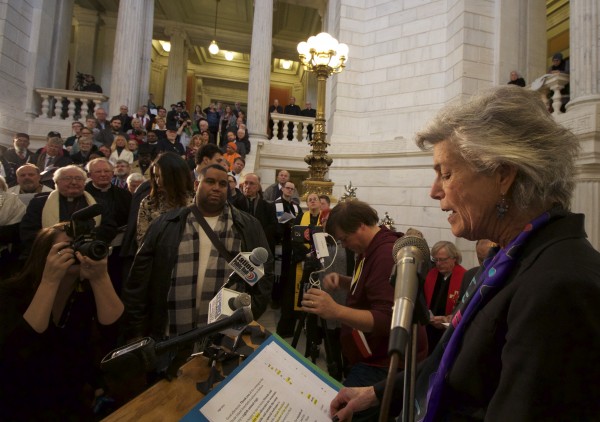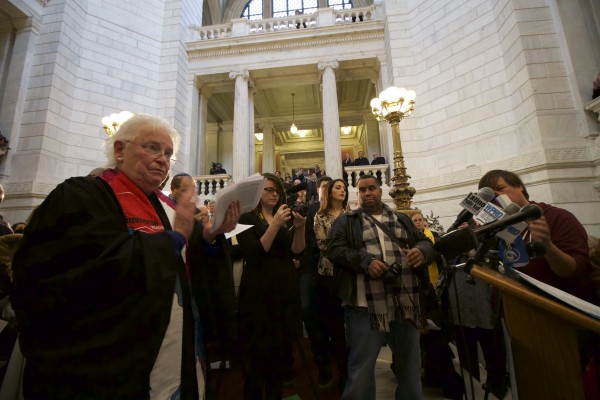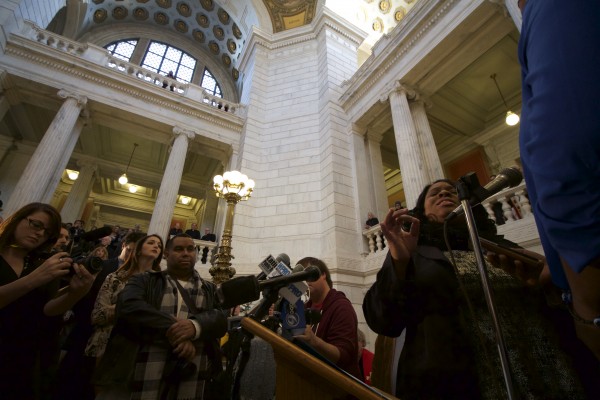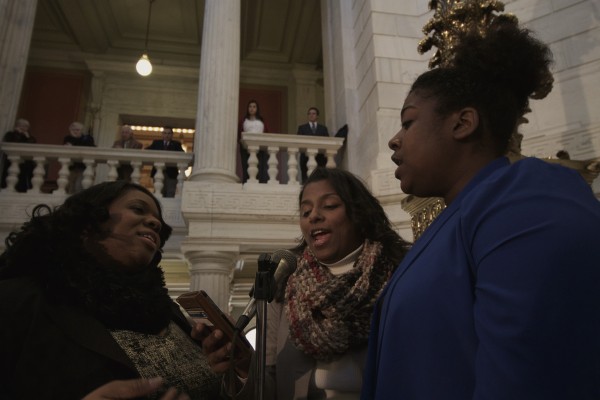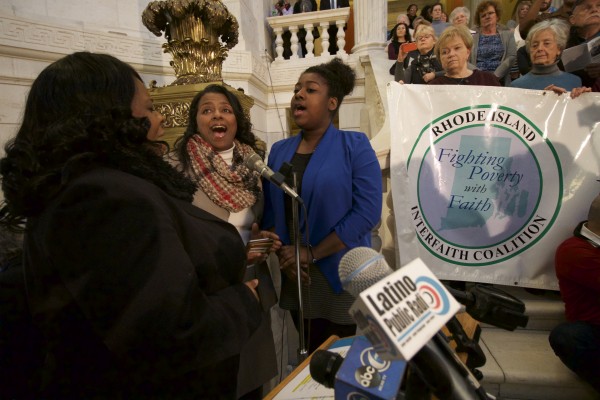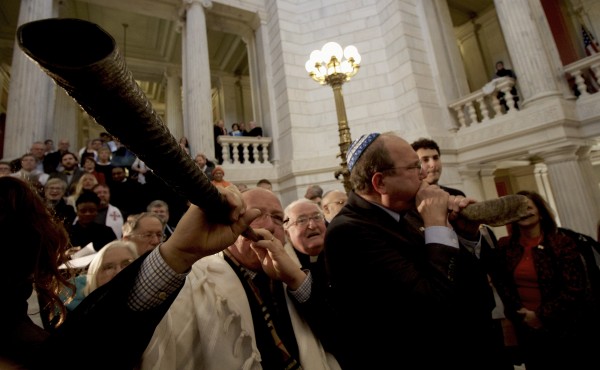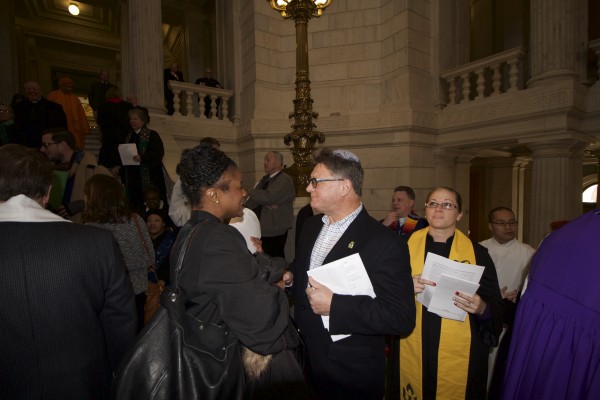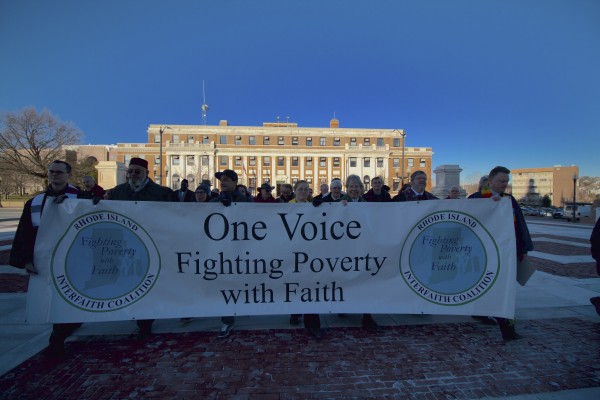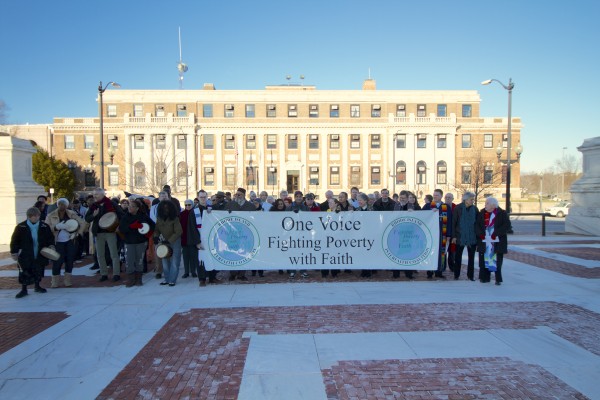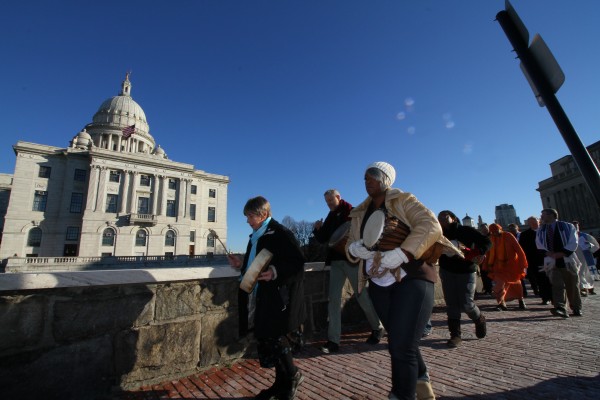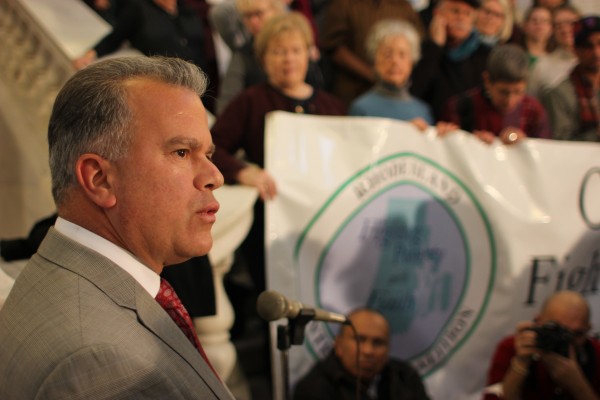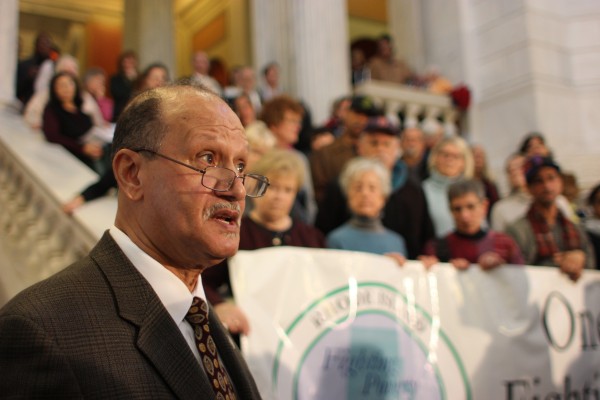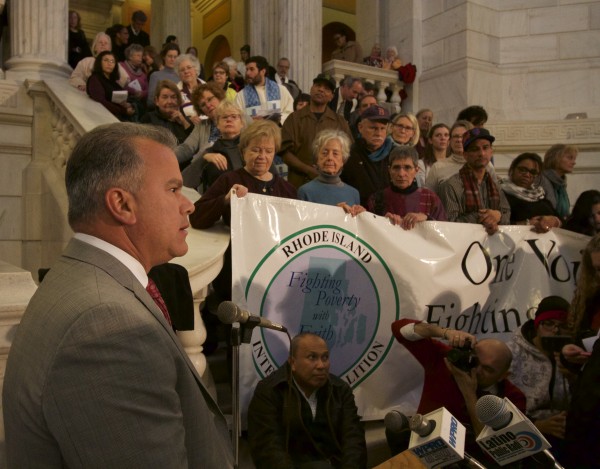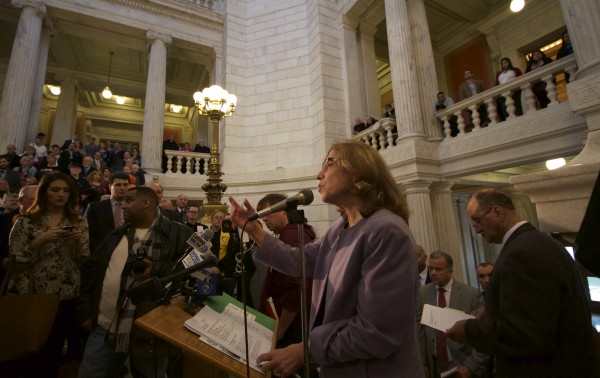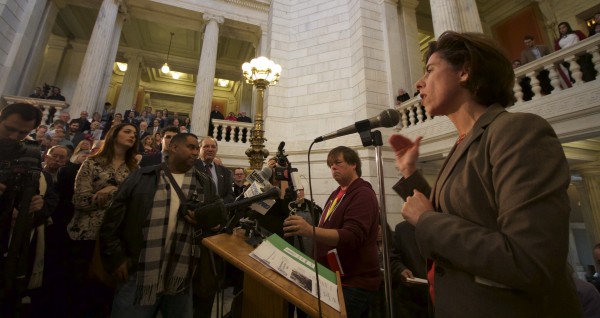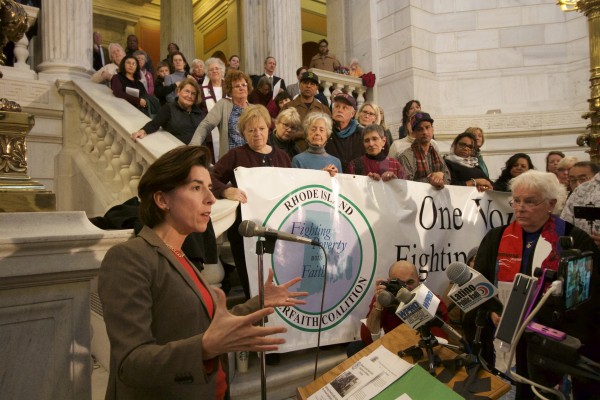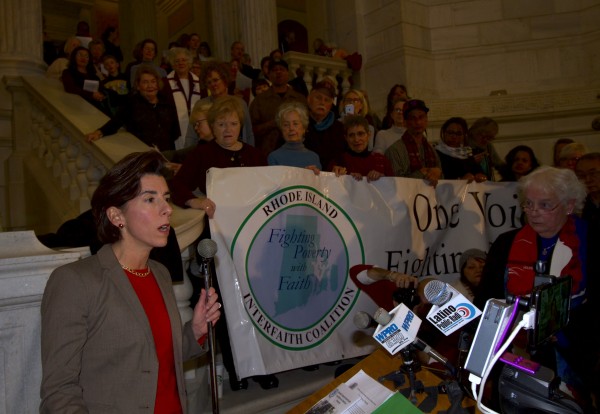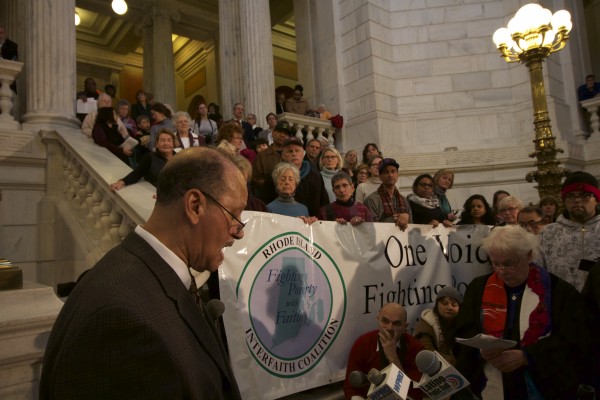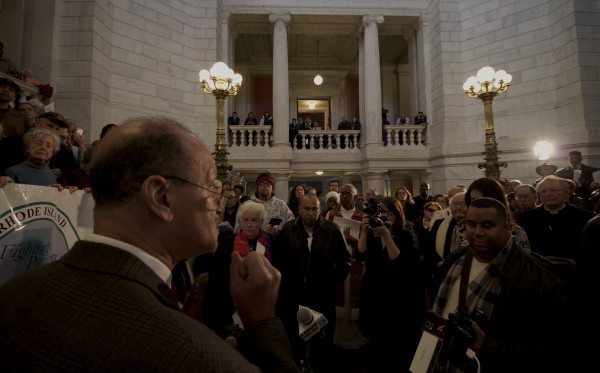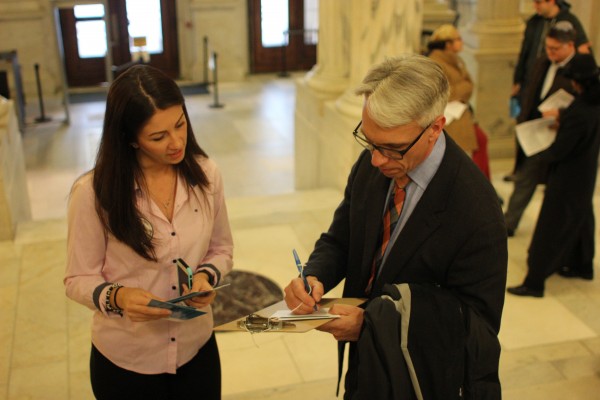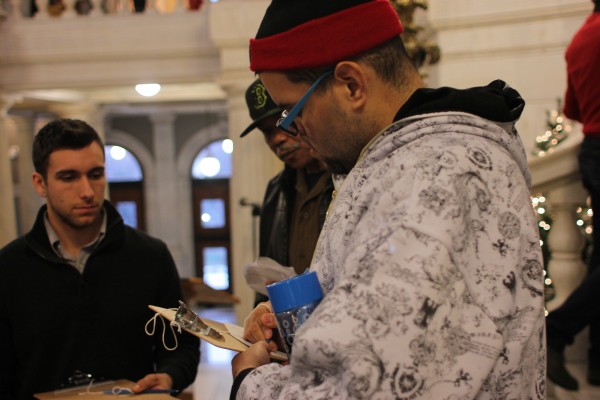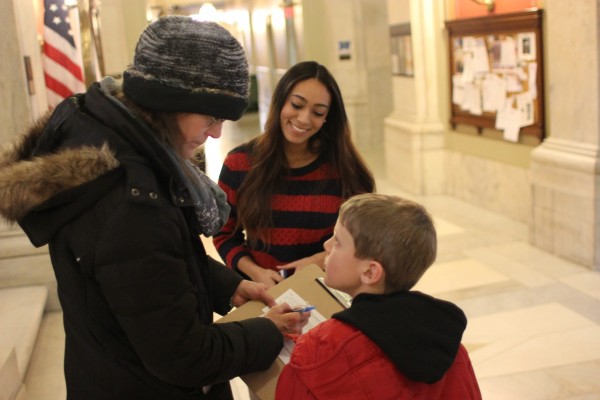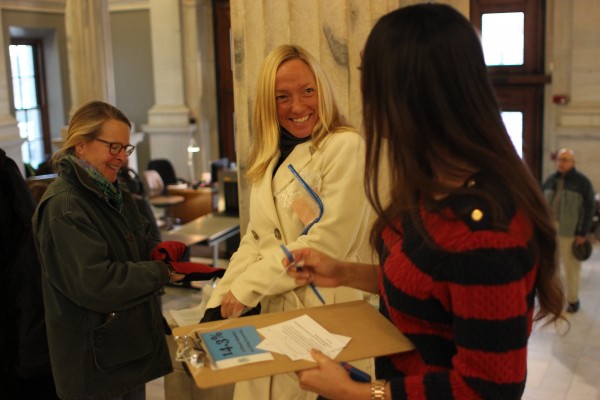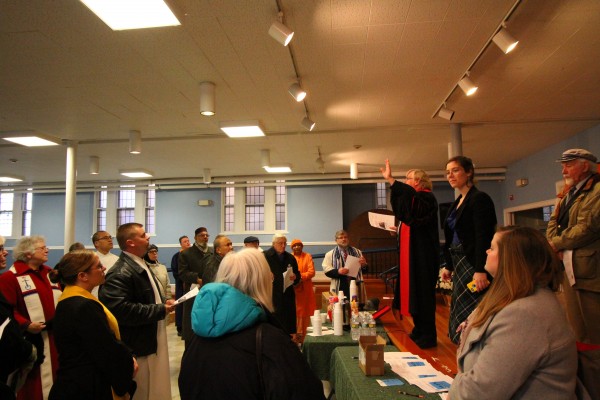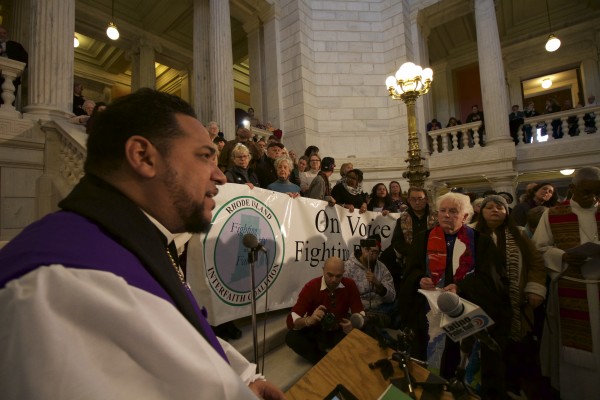 And here's the full vigil.
Interfaith Vigil at State House proposes ambitious poverty agenda

,