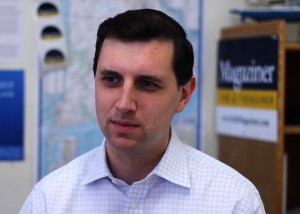 During an interview about his investment experience and his "blueprint" for fixing Rhode Island's economy, candidate for state treasurer Seth Magaziner said he would not have signed contracts with hedge fund managers that shielded their pay from the public.
"I would have demanded a higher level of transparency," Magaziner said. "And if they were not okay with that I would have walked away."
Hedge funds have become a dirty word, Magaziner said, primarily because of the very high fees managers charge clients. He said the four highest-paid hedge fund managers last year made more money than all the kindergarten teachers in the United States. "What's wrong with us as a country when that is what we are willing to put up with," he said.
Magaziner spoke about his role at Trillium, the socially responsible investment firm that he worked for, what makes their investment strategy different and how to apply some of the lessons he learned there to Rhode Island.
He also talked about his "blueprint" for how the treasurer can help fix Rhode Island's ailing economy. One of his ideas is investing a small percentage ($10 to $20 million) of the pension fund into Rhode Island startups. He'd also develop a dedicated funding source for new school construction.
"The way it worked was the municipalities were responsible for raising funds for construction then they would go to the state for a match," he said. "The problem with that of course is of course the wealthier communities were having an easier time raising funds for the match. The way they do it in Massachusetts is much better."
Massachusetts, Magaziner said, has a list of what school facilities have the most need, and a one cent from the sales tax goes to repairing the infrastructure in the most need.