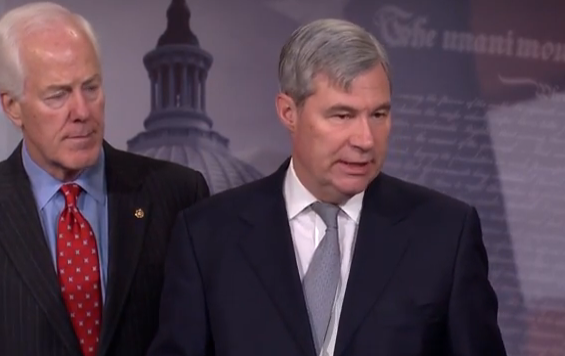 First he led the Senate on climate change. Then he took a high profile role in the fight for tax fairness. Now Senator Sheldon Whitehouse is leading the way on prison reform.
He and Texas Republican Sen. John Cornyn, both former state attorneys general, announced yesterday the CORRECTIONS Act, or the Corrections Oversight, Recidivism Reduction, and Eliminating Costs for Taxpayers in Our National System Act. This bill the, two senators say, will reduce both the cost of prisons and recidivism for inmate all over America.
"Our bill is built on the simple premise that when inmates are better prepared to re-enter communities, they are less likely to commit crimes after they are released – and that is in all of our interests," Whitehouse said in a press release. This bill will be formally introduced today.
And what's even better – the bill is based on a successful program run right here in Rhode Island.
"As a former state and federal prosecutor, I recognize that there are no easy solutions to overflowing prison populations and skyrocketing corrections spending," said Whitehouse. "But states like Rhode Island have shown that it is possible to cut prison costs while making the public safer."
The Whitehouse/Cornyn bill would allow some inmates to earn time off their sentences for participating in programs that reduce recidivism. Whitehouse staff says the concept is based on successful programs implemented by A.T. Wall, director of the department of corrections in Rhode Island, and shared this op/ed authored by Whitehouse and this article authored by A.T. Wall.
"Rhode Island's experience shows that debates over correctional policy need not pit public protection against the costs of incarceration," wrote Wall in his article on how the Ocean State reduced costs and recidivism. "Although corrections is a particularly volatile component of the public domain, a careful process, I shaped by evidence and conducted among thoughtful leaders with the requisite political will, can yield a balance that respects both fiscal responsibility and public safety."