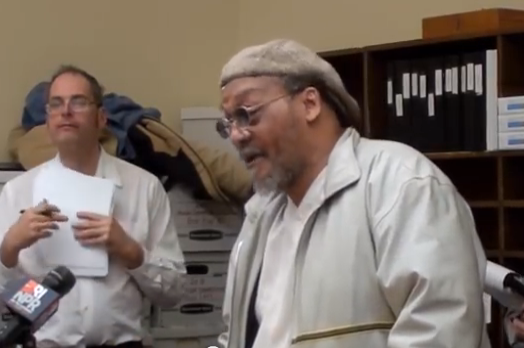 Even a police union official and the House sponsor of a bill to make highway protests a felony said the proposed punishment doesn't match the crime at a House Judiciary Committee meeting last week
"I don't necessarily agree it should be a felony," said Anthony Capezza, state director International Brotherhood of Police Officers. He also conceded that the bill is more broadly written than need be. "I agree, it's broadly written, where somebody just an individual standing in the street, could be charged under this."
Rep. Ray Hull, who sponsored Raptakis' bill that would make highway protests a felony punishable by at least a year in jail, distanced himself from the strict sentencing mandate after tough questioning from Rep. Joe Almeida during the hearing. Rep. Dennis Canario, sponsored a similar bill and testified his version was superior because it carries a misdemeanor sentencing guideline.
Of the 19 people who testified only Sen. Lou Raptakis said a felony conviction was warranted for protesting on a highway.
In spite of obvious public interest in the proposed legislation (the hearing was covered by RI Future, RIPR and the Providence Journal), legislators chose not to broadcast it on Capitol TV. For those interested, Steve Ahlquist recorded the entire meeting and what follows is video clips of all the public testimony.
Andy Horowitz, law professor Roger Williams University:
Ellen Tuzzolo, Providence resident:
Stan Tran, former Republican candidate for congress:
Malcus Mills, Direct Action for Rights and Equality:
Kristin Dart, Rhode Island Coalition for Reproductive Justice:
Steve Brown, ACLU:
Laura Ucik, Brown Medical School student:
Fred Ordonez, executive director, Direct Action for Rights and Equality:
Megan Smith, Rhode Island Homeless Advocacy Project:
Michael DiLauro, public defender:
Martha Yaeger, American Friends Service Committee:
David Fisher, rabble-rouser:
Sheila Wilhelm, Direct Action for Rights and Equality:
Barry Schiller, a transportation activists said bicyclists could be charged under the legislation:
Randall Rose, activist:
Anthony Capezza, state director International Brotherhood of Police Officers:
Rep. Ray Hull:
Rep. Dennis Canario:
Sen. Lou Raptakis: