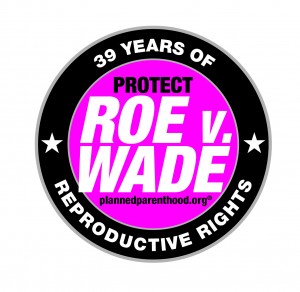 On January 22, 1973 the U.S. Supreme Court handed down its ruling in the landmark Roe v. Wade case. The decision ensured that the right to privacy in the U.S. Constitution permits a woman to choose whether to continue a pregnancy or to have a safe and legal abortion.  This historic ruling recognizes that women and their families, not politicians, should have the right to make their own medical decisions.
Now, 39 years later, Planned Parenthood remains strongly in support of the Roe decision as it survives persistent attack from opponents.  In 2011, elected officials at every level of government and in many states launched an unprecedented assault on women's health care and the rights secured by Roe. Similarly, 2012 is expected to be a year of contentious battles.   Extreme bills are likely to be introduced as lawmakers use women's health as a diversion from the real problems facing Americans.
We've already seen bills designed to strip Planned Parenthood of public funding for family planning services. In Mississippi, voters defeated a ballot measure in November declaring a fertilized egg a person, language that could result in outlawing birth control, stem cell research, and In Vitro Fertilization, as well as abortion.  Despite this failure, "personhood" legislation will be introduced in other states this year.
Here in Rhode Island, the health reform process nearly ground to a halt last spring over baseless claims that public dollars would pay for abortions within the health care exchange. Congress has clearly stated that federal dollars cannot cover abortion, and Rhode Island has the same longstanding policy with regard to state dollars. Women will benefit enormously from health care reform, and finally will have coverage for preventive care and the birth control methods that nearly all sexually active women use during their reproductive years.  Using abortion politics as a roadblock to health reform is a threat to the health of all Rhode Islanders.
A majority of Americans support and respect the decision each woman must make about her own pregnancy.  On Sunday January 22nd, let's each mark the 39th anniversary of Roe v Wade by recommitting ourselves to protecting a woman's right to choose a safe and legal abortion.
Join Planned Parenthood's online Since Roe campaign to remind Americans of the crucial difference the decision has made in women's lives. Twitter supporters may use the hashtag #becauseofroe to provide their own reasons, and #roe for general tweets around the anniversary. We encourage friends of Planned Parenthood to join the Trust Women virtual march running from Jan. 20-27th:  grab a sign and participate to show your support for the decision that's made all the difference!