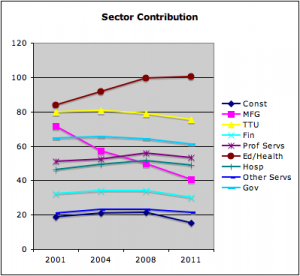 After several months of more-or-less positive jobs numbers in RI, the last two months have been anything but. And the December numbers were, frankly, horrific. While it is certainly true that a wonk could parse [spin] the recent down-turn toward neutral, the same could be done with the previous up-cycle.
As the wonk that could do either, let me tell you this: the jobs scene in RI is bad. Damn bad. Later, I'll parse these numbers to show how bad things really are.
Unlike my usual polemics, I'm not going to rant as if there were some obvious course of action on which pols are unwilling to act [even though that's been true for decades]. At this point, I don't have a lot of answers, just one brutal, ugly question: where do we go from here?
So, enough with the introductory niceties; let's have at.
RI's Jobs Numbers Since the Economic Collapse
Before we can talk about our numbers since the collapse, we need to appreciate that the mid-00's were the best economic times RI had seen in decades. Of the main jobs indicators, all of them – labor force, employment and unemployment – topped out in 2006/2007. Being the Biggest Little, we need to accept that we largely rise and fall on the national trend. Or at least, we rise on it.
The lead graphic shows how most industrial sectors were basically flat 2001 to 2008 with these notable exceptions: education and health care exploded while manufacturing continued its decades-long collapse. [Source: BLS]
Ed/Health has held its gains since the collapse while professional services and hospitality, which showed solid gains to 2008, have only modest declines since. Construction, not surprisingly, along with government employment, financial services and trades, transportation and utilities (TTU) have sloped off badly.
It's important to note that I haven't parsed the contribution of construction in RI relative to other states, but given the collapse of manufacturing, it is at best a secondary impediment.
Long story short: our problems today are the same as our problems 20 years ago – manufacturing is dying, and we have not yet found a way to replace those jobs.
The Recent Horrors
For most of this year, we followed or even amplified the national trend downward until October, when we hit some kind of top and turned counter-trend. In the fourth quarter of 2011, we diverged almost a full percentage point from the national average.
That, my friends, is some ugly shit.
Granted, I could spin these declines toward neutral, but just as easily could I spin the gains toward neutral. The gains were mostly declines in the labor force – that is, people who say they're looking for jobs – while the declines were gains in the same.
Long story short: we're not creating jobs, we're treading water. People dropped out and then dropped in again.
I probably should have mentioned that we need to create 40,000 jobs to get back to "full employment". 40,000 jobs on a basis of just over 500,000 employed means 1 new job for every 12.5 that currently exist. It's a giant number.
But wait…it gets worse.
The Current Situation
Look at this jobs board. Plenty jobs listed, for a certain kind of worker. These are all full-time jobs, and they are recent listings. Even ones from months ago may still be unfilled. This state lacks highly educated workers. In fact, we lack moderately educated workers – we import welders. Not Ruby on Rails developers – welders!
That's the situation. RI's historic under-investment in education has yielded a work force ill-prepared to face the current economy, much less the emerging one. [See above under collapse of manufacturing sector.]
To be sure, if you drive an automobile on an elevated highway, it's important that welders that construct the steel-on-steel joints that support the reinforced concrete substrates that hold the gloriously smooth asphalt on which you drive understand the operational parameters of joint strength relative to weld length and depth as that applies to steel grade and thickness.
"Welder" does not equal "ignoramus". If it did, you'd be dead. [If welder had ever equaled ignoramus, he or she would be dead. Welding is, you know, dangerous. Go pick up a torch some time…]
So we need a range of workers, and we import some of them from India or Slovakia or Colombia. Meanwhile, we export highly educated workers to such remote locations as Massachusetts.
But none of that does Jack Squat for our unemployment numbers. Why? Sadly, that answer is all too simple.
Our Prospects
Long ago on a blog far, far away, I wrote a post called "Our Prospects for Economic Growth". And that post was just as cheery as this one. The cold, hard fact is that the RI's unemployed are poorly suited to those scant jobs our economy is creating.
This state's historic disinvestment in education has created a self-reinforcing feedback loop in which jobs exist for imports, and local don't get jobs. I call this phenomenon "government at war with its population". If you don't have an advanced degree, they want you to go away…to some other place where people like you live. While the cities of Pawtucket and Woonsocket (and the ex-government of Central Falls) exemplify this trend, the RI state government proves it out, as well.
To the long-term denizens of the State House, "welder" – challenging as that job might be – is not good enough for them. They want you to have an advanced degree in micro-biology, computer science or (choir of angels) business management before they'll say you're RI material. [Note: Financial Services is among the employment sectors that collapsed, much to Smithfield's chagrin regarding the enormously expensive and now only partially occupied Fidelity campus.]
Except this: RI has an unemployment rate of 10.8% as of this writing, and those people lack substantial education. What's to do?
Non-Snarky, Future-Oriented Discussion
This state needs to recognize the fact that we've got a serious problem, and it's not going to fix itself. It requires action – immediate, meaningful action. Here are some things I think we can look to create some jobs at the lower end of the wage/education scale.
Get our heads around the "1099 economy" – Having been self-employed for about a decade, I know that it doesn't really matter if you have "a job" so long as you have "work". But the deck is stacked badly against the 1099-ers. From health insurance to FICA, you pay a serious penalty when you try to strike out on your own. The Powers that Be have only recently become aware that there is such a thing as the 1099 economy, so they're still getting up to speed on what it means and how they can help move it forward. Recent changes to the RI EDC Board of Directors certainly help, but they need to be far more aggressive about making this happen.
Fulfill our "Arts and Entertainment" Promise with a Downcity Casino – Like it or not, Providence is known as a party town, and we should build that out for all it's worth. Despite all it's challenges and downsides, I think it's possible for us to "do a casino right" so that we get maximum benefits. And we should go the whole hog, including the postage. We should take a serious look at developing looser rules around the vice trades in which government oversight and monitoring keeps the criminal element at bay. In simple terms, we take a more Cuban or Dutch approach to the sex trades where pimps are replaced by health services.
Sell "War-on-Joblessness" Bonds that Fund Infrastructure – The same way the US sold War Bonds in the 2oth century, we sell bonds to fund the infrastructure critical to a thriving economy. Because we're not auctioning bonds on the market but selling them directly, we can set the interest rate where ever we want it. The payoff for investors is more moral than financial. Crazy-talk, I know, but it could happen.
Take Another Look at "Dirty" Industries – The new metals recycling operation on Allens Ave is the kind of "working waterfront" thing we would do well to expand on. Garbage is big business, and it's the kind of unglamorous industry that nobody goes after. Like the casino, it's disastrous if done wrong, but brilliant if done right. I'm actually a connoisseur of dumps, so I've visited or read about some very advanced operations.
What else? My ideas aren't the only possibilities. But whatever we talk about doing, it has to focus right down on the kind of jobs we need, not the kind of jobs we want.
Hard Talk About an Ugly Economy

,