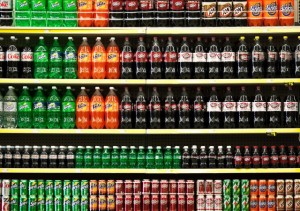 The idea that people will cross state lines to avoid paying taxes is one of the most abused axioms in Rhode Island politics, but this notion is stretched far beyond the ridiculous when those opposed to a soda tax invoke it.
The proposed soda tax, heard yesterday by the House Finance Committee, would add a levy of one penny for each ounce of sugary beverage a distributor sells. So a two-liter bottle of Coke, which costs about $1.50, would cost an additional 60 cents. A 20 ounce bottle one gets from a soda machine or convenience store cooler would run an extra two dimes.
Despite the incremental increase, the soda industry tried in the hearing yesterday to sell to the Committee members on the idea that Rhode Islanders would flock to Massachusetts or Connecticut to get their Coke or Pepsi rather than fork over an extra couple of quarters.
"This legislation would heavily impact sales, particularly in the border stores, which in turn reduces revenue to the state and ultimately impacts the number of jobs associated with the beverage industry," according to a letter to the Committee from the Rhode Island Beverage Company.
Most people won't cross the street to save 60 cents, never mind shell out $4 a gallon to do so. But don't let common sense stand in the way of industry lobbyists claiming that the state's soda sales would be "heavily" impacted and even lead to people losing their jobs!
Clements Marketplace in Portsmouth – a grocery store on an island, mind you – made this outrageous claim, too. People would have to drive across a bridge to find the nearest Massachusetts convenience store or super market.
"My store and all other border stores will lose sales, the state will lose tax revenue and Rhode Islanders will lose jobs," wrote store manager Tracy Clements Anthony.
From Clements to the Fall River line is an eight mile drive. That means it would cost a commuter about a dollar in gas to drive to Massachusetts to save 60 cents on a two liter bottle of soda. Portsmouth consumers: that's a net loss of 40 cents on every two liter you waste your time driving to Fall River for. And that's if you are driving a Toyota or a Honda; if you're driving an SUV or a minivan it'll cost more like $2 in gas to save that 60 cents.
Also notice how similar the language is in the two letters. That's because these are talking points, not ever to be confused with facts, meant to be repeated often enough until they become part of our collective cultural understanding. In this case, that people will spend more money than they save simply to avoid paying a tax.
Other letters from other soda sellers mirror these talking points, including one from Brigido's Fresh Market, which points out that their Slatersville store is "less than one mile from the Massachusetts border," which is true – but there isn't a convenient convenience or grocery store anywhere nearby across the border.
Meanwhile, the one cent per ounce tax – on a product that is known to contribute to a variety of health problem like diabetes, obesity and heart disease – would raise some $45 million that would be earmarked for public health initiatives.
"We just want them to pay a little extra if want to do something unhealthy," said Steve DeToy, of the Rhode Island Medical Society. "It's the same thing we did with tobacco. It worked with tobacco we think it will work with obesity too."
Soda Tax Talking Point Ignores Gas Prices, Logic

,