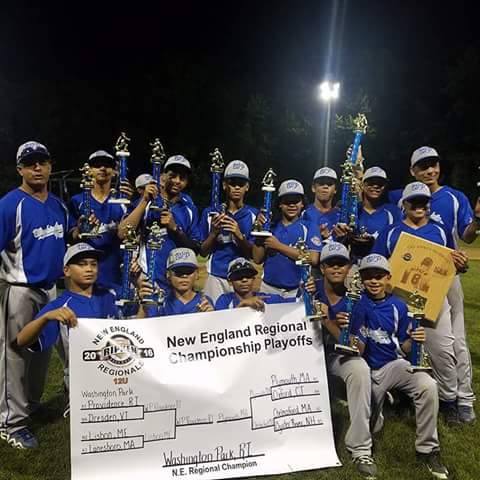 After winning both the state and New England tournaments, the Providence Washington Park Cal Ripken little league team has an invitation to be one of 10 teams from across the nation to compete in the World Series in August. But first the predominantly Hispanic group of 12-year-olds from South Providence has to raise $12,000 to be able to compete for the national championship.
"We're limited in what we can do financially," said Jennifer Asencio, whose son Dorsy, a pitcher, was the MVP of the New England tournament. She said the average parent earns between $20,000 and $30,000 annually – not enough to afford the once-in-a-lifetime opportunity. "The kids have been canvassing the neighborhood. All the parents are asking their employers. We've asked the PawSox and the Red Sox."
The team has also set up a GoFundMe page – and could really use your support.
Perhaps worse than the financial hardship of paying for the trip, Ascencio says the team from South Providence isn't getting the same amount of attention that previous local little league teams received from local media.
"They just aren't getting the same attention that Cumberland or Cranston West did," Asencio said. "I've reached out to all the local news stations. The only obvious difference to me is these are Hispanic, low income kids."
She added, "All the parents are saying the same thing. There's been no response from the local news or local politicians."
This is the seventh season for the Washington Park Cal Ripken little league and the 12-year-old team represents the inaugural class. "This group started tee ball together seven years ago and now they are going to the World Series together," Asencio said. "It's really a great success story."
To advance to the World Series, they had to beat teams from all over Rhode Island and New England. The team, she said, is a tight-knit group that has already developed a sense of community organizing.
"When there isn't practice or a game, the kids all practice together," Asencio said. "They help the younger kids. They are just the best group of kids."
So far, the team has raised $2,000. Assuming they can raise another $10,000, they will compete in the Cal Ripken World Series from August 4 through August 14 in Ocala Florida.
South Providence little league team struggles to afford World Series trip

,