Olneyville is getting an upgrade as two new commercial spaces and 36 new affordable housing units, in 14 different buildings spread throughout the neighborhood, will be developed by next summer as part of a new $10.4 million project being called Amherst Gardens.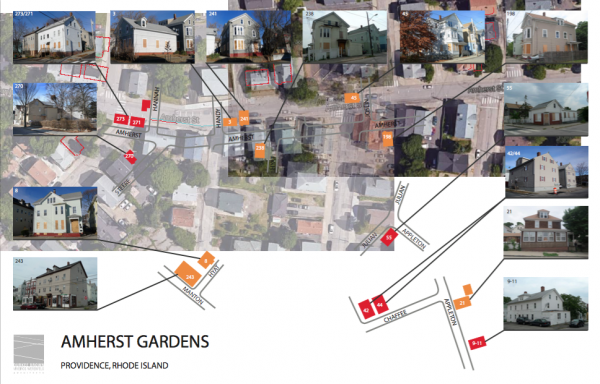 "We are excited to be starting construction," said Wendy Nicholas, the executive director of ONE Neighborhood Builders, formerly known as the Olneyville Housing Corporation. "Amherst Gardens has been in the works for several years, and we are delighted that all of the pieces – the properties, the designs, the construction crew, and the funding – are now all in place.
The project, Nicholas said, is part of ONE Neighborhood Builders "campaign to improve the neighborhood, block-by-block, making it a better place for families to live, to raise their children and to find employment."
ONE Neighborhood Builders described the project as a "scattered site housing development, with the new or rehabilitated homes scattered throughout the residential core of Olneyville, primarily along the Amherst Street corridor.  The development will reinforce the small residential scale of the neighborhood, provide much-needed affordable housing, and resolve long-standing areas of blight."
Cynthia Langlykke, of ONE Neighborhood Builders, said the scattered site design of the project allows for many properties, encompassing 10 blocks of Olneyville, to be improved. "The acquisition process for a project like this never easy," she said. "But we think it has the biggest benefit to the community."
Nicholas added, "In addition to creating much-needed affordable housing, our goal also is to improve the whole neighborhood as a good place for everyone to live, to raise their families and to work.  We tackle the deteriorated or otherwise troubled properties scattered in our community."
The apartments will be rented to people who earn annually less than about $30,000 a year, depending on family size. The two commercial properties do not have affordability restrictions. "Neighborhood businesses will be encouraged to apply," Langlykke said.
"On behalf of the Olneyville community, I'd like to thank ONE Neighborhood Builders for rebuilding and reimagining Amherst Street," said City Councilwoman Sabina Matos, who represents the Olneyville neighborhood. "Quality affordable housing is paramount to a thriving urban community. This development expands our housing options, creates a safer, more vibrant neighborhood for Olneyville families, and further improves the area around one of our most important assets—William D'Abate Elementary School—and directly benefits the students who learn and play there."
The Amherst Gardens development, slated to break ground in January and be complete by August, "will reinvigorate blighted properties into vibrant, much-needed housing for families," said Barbara Fields, the executive director of Rhode Island Housing, which contributed more than $700,000 to the project plus an $800,000 loan. "The Amherst Gardens initiative builds upon other investments in housing, commercial development, parks and the arts – all of which are enhancing the quality of life in the Olneyville neighborhood. Amherst Gardens is a great example of the kind of transformational development that the proposed $50 million Housing Bond will support."