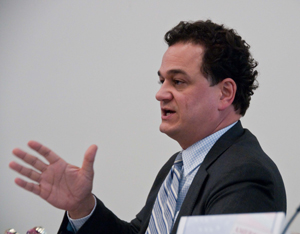 House Speaker Gordon Fox says he will push for marriage equality in the next legislative session, according to Ted Nesi of WPRI.
"It's one of those issues that I need to come back, we need to address, and I intend if I'm elected speaker to address it early," Fox said during a taping of Newsmakers today.
Fox, who is gay, enraged the progressive community when he didn't allow same sex marriage to come to a vote on the House floor in 2011. He has said it was a very difficult decision given his personal stake in the matter. Insiders say Fox didn't call the vote because he knew it wouldn't pass in the Senate, and many House members didn't want to be put on record if the bill wasn't going to pass.
Regardless, with his announcement today, he seems to have mended some of the fences he broke with the progressive community.
"We appreciate Speaker Fox's commitment to finally calling a vote on marriage equality and look forward to working with him to pass this important civil rights legislation early in the next session," said Ray Sullivan of Marriage Equality of Rhode Island. "Under Speaker Fox and Gov. Chafee's leadership, all eyes will turn to the Senate, where there is a wide coalition working to ensure that a pro-equality majority is elected."
Senate President Teresa Paiva-Weed does not support marriage equality for Rhode Island, and there is substantial resistance to the idea outside of her in the Senate. Here's the story we wrote about marriage equality in the Senate in early June.
And here's my video from 2011 of Fox talking about why he didn't push for marriage equality: