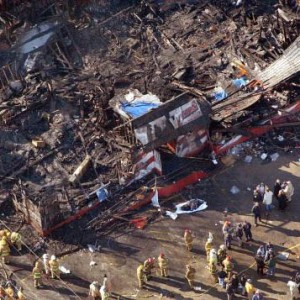 There is a documentary film project under way about the Station Nightclub fire of February 20, 2003.  In 2010, Paul Lonardo helped Gina Russo write a book called From the Ashes about the loss of her fiancé, and of her survival from the fire.  Local documentary filmmaker David Bettencourt is working on adapting and expanding Gina's story for a more comprehensive film project about the fire called The Station (website coming soon).  You may know David Bettencourt from You Must Be This Tall: The True Story of Rocky Point, and the Neutral Nation movie It's a Bash (with an appearance by yours truly).
The planned release date for The Station will be February 2013, in time for the 10 year anniversary of the fire that took the lives of 100 people.  In an email from Paul Londardo, he explained the impetus behind the documentary:
We hope to get as many people involved in this project as possible so that the tragedy and the 100 lost lives are never forgotten. We want to make this an accurate historical document as well, so participation is important.  In addition to the documentary film, a web series will be produced which will be made available on-line after the film's release. These will be shorter, personal stories which did not make it into the film and they will be made available on line, released in weekly intervals as part of the project.
If you are interested in being sharing your story, please contact Paul Lonardo at Palonardo@aol.com or 401-743-3812.