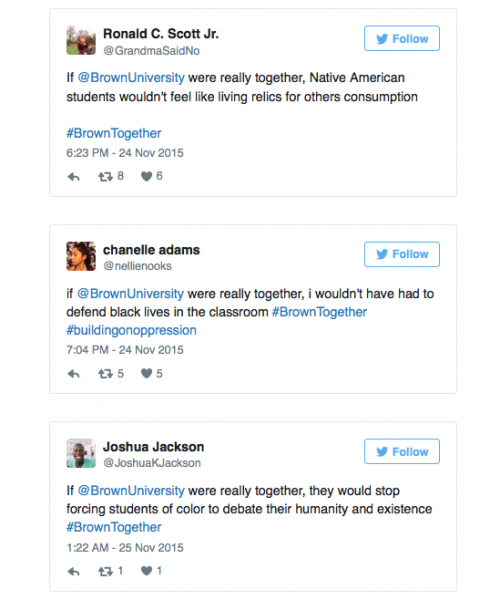 #BrownTogether is the official social media branding of a $3bn fundraising effort announced by Brown University President Christina Paxson. Paxson's fundraising effort seeks to "transform" the university by allowing wealthy donors and corporations to make visible public contributions. Named chairs and endowments make good press, but Brown's students of color have reclaimed the hashtag through weeks of action, protesting a racially inequitable and hostile campus sustained by their tuition dollars.
The movement began with a direct action staged during a meeting of the Brown University Community Council. Students' use of the #BrownTogether hashtag demonstrated the hostile environment experienced by students of color at Brown. These tweets were documented by Bluestockings Magazine, a student-led feminist magazine on campus. The tweets also offered critiques of Brown's relationship with the community (a relationship often described within the context of Brown's public relations apparatus) and the practice of branding racial inequities as a "learning experience."
Brown's leadership dedicated $100 million (3.3% of the $3bn effort) to "improving race relations" on campus. However, this plan was roundly criticized by students for not addressing specific issues. This critique was drafted by a Coalition of Concerned Graduate Students of Color. The critique noted that salaries and stipends paid by Brown are inadequate compared to public universities such as the University of California – Riverside.
Though $100M has allegedly been earmarked, Brown has not released a timetable or specific breakdown on how funds will be distributed.
The program's nebulous statements about inclusion stand in stark relief with Paxson's commitment to arming Brown DPS (law enforcement) officers. This additional weaponry raises immediate concern after Brown's police department was forced to apologize after a Latinx conference attendee was assaulted by a police officer. College law enforcement officers claim to be concerned with student safety on campus. However, the killing of Samuel DuBose by a campus police officer shows that the college campuses are no safer than the rest of the US for students of color. Ray Tensing, the white officer who killed DuBose, was indicted for murder – a testament to the power of #BlackLivesMatter movements in demanding justice.
Specific demands, including exact wording on hiring and applications policies, were drafted and presented by students of color during an occupation of Brown's administration buildings – where the students put in a day of work as diversity consultants for the University.