Not in more than a decade has Rhode Island confronted the reality of mass incarceration as unflinchingly, as ambitiously and as uncomfortably as it did last Friday.
"Sounding the Alarm on Mass Incarceration," a day-long symposium at Roger Williams Law School, drew hundreds of the most prominent and integral members of the Rhode Island criminal justice system to face that very system's flaws head on. Although the fire has been raging for some time, it was retired Superior Court Judge Judith Savage, the event's logistical and spiritual leader, that struck the alarm.  Directors and staff from all relevant public agencies, including most of Rhode Island's Judges, crossed from opposite sides of the aisle, the courtroom, and the prison walls themselves, to sit side by side. The event combined the gravity of a government planning committee with the openness of a public forum.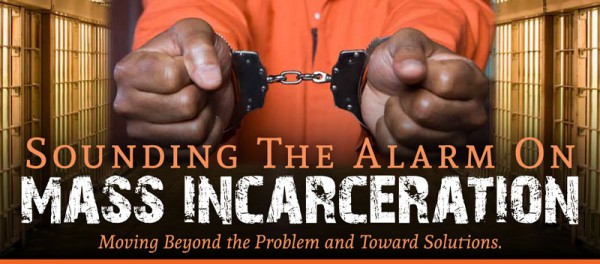 The symposium looked into Rhode Island's prison problem in the same week that US Supreme Court Justice Anthony Kennedy declared that the "corrections system is one of the most overlooked, misunderstood institutions we have in our entire government."  US Attorney General Holder himself recently said, "Too many people go to too many prisons for far too long for no good law enforcement reason."
In accord, the local event's two expert keynote speakers, Bryan Stevenson and Marc Mauer, began the morning with the conclusion that our overuse of prison at its core wastes money combating crime ineffectually and inhumanely. Despite broad consensus that mass incarceration is an American crisis, this was still a radical and controversial assertion in a room filled with the very people who daily are tasked in Rhode Island with sending people to prison.
Marc Mauer, executive director of the Sentencing Project, an organization which spearheaded the recent federal reform of crack-cocaine sentencing disparities, presented the room with a stark set of statistics and assertions. In the US, incarceration rates have increased by 500 percent since the 1980's. We now incarcerate people at five to eight times more than other developed countries. One in three black men will go to prison in their life times. He reviewed a recent study by the National Research Council that concluded that while increased prison rates decrease crime, the "magnitude of this crime reduction is likely small." From the same report he identified a simple set of causes: a rise in the chance of going to prison upon arrest and an increase in sentence length.  To reverse the trend, these rates must be reduced.
While Mauer deconstructed the crisis with statistics, keynote speaker Bryan Stevenson outlined four emotional and psychological challenges: get proximate, confront racism, remain hopeful, and brave discomfort.  Fittingly, these were the very challenges faced by the audience throughout the day.
Stevenson is the director of the Equal Justice Initiative, an agency based in Alabama that represents poor, wrongfully convicted, or inadequately represented defendants.  His TED talk "We need to talk about justice," has been viewed over 2 million times. He spoke of hearing a death row prisoner sing while being abused. He told of hugging a child that had been sentenced to adult prison for killing his mother's abuser as the child confessed to Stevenson of being brutally raped in prison. And he recalled being told "I just love you for fighting for me," by a severely disabled man about to be executed. A national hero amidst the carnage of our penal system, his stories were at once heart-breaking and inspiring.
One of Stevenson's themes was the need to confront racism, and the ugly facts of racial disparity within RI's criminal justice system were dramatically apparent throughout the event.  At the end of the day, former Rhode Island Superior Court Judge Francis Darigan asked the audience to look at our own system for any racial bias.  This sort of examination is extremely challenging, and Stevenson provided a vision of what success would look like.  He compared the legacy of slavery in the United States to the legacy of the Holocaust in Germany. Once in Germany, he was told by a room of lawyers and politicians that Germany could never conceive of inflicting the death penalty after gassing millions in the Holocaust.
"And I think about that because I would be outraged today if I saw the nation state of Germany putting people in gas chambers, and I'd certainly be outraged if they were disproportionately Jewish," said Stevenson, drawing a powerful comparison to America's prison system.
Stevenson argued that slavery was not an economic system, it was an ideology of dehumanization, an ideology that, unlike in Germany, has never been purged in the United States.  A successful response to racism in America, he envisioned, would look like Germany's response to the holocaust.
In addition, "We must get proximate to the challenges we want to solve," Stevenson exhorted the audience, telling of how his passion and insight into this issue came from getting to know people face to face.  The power of proximity emerged that very day, as the audience heard directly from two men who had spent much of their lives behind bars.
In most similar events, speakers with a criminal record are labeled at the time of introduction–no matter their other accomplishments they are introduced with the distinction of 'formerly incarcerated,' making it clear to the audience that they are on stage because they were once in prison. Instead, refreshingly, James Monteiro and Luis Estrada were introduced with the accolades that they have earned outside the walls, accomplishments that would have themselves justified a place at the microphone.
James Monteiro is a published spoken word poet, the founder and director of the Billy Taylor House, a community organization that supports young adults in Providence's Mount Hope neighborhood, and the Director of Prison Programs for College Unbound.  He also spent ten years in prison in Baltimore. In a discussion moderated by Justice O. Rogeriee Thompson of the US Court of Appeals, Monteiro spoke of peering through a tiny prison window as his son left a prison visit in tears, saying he decided at that point to stop blaming others for his situation and to take responsibility.  "It had always been your fault," he said, pointing at the audience.  After that, Monteiro said, "Education changed my life." He earned an associate's degree while incarcerated, a bachelor's degree after release, and now runs a prison education program.
Luis Estrada's journey to the stage was nothing short of unbelievable.  He earned several degrees while serving 22 years in prison for robbery, won a motion in the United States Supreme Court from prison, and was offered a job by former Providence Mayor Angel Taveras's law-firm prior to leaving prison.  Since his release ten years ago, he has dedicated his life to running political campaigns and assisting reentry and addiction recovery work across the state while at the same pursuing a successful career as Office Manager at the law firm Sullivan, Whitehead, and Delucca.
The unique juxtaposition of the day was highlighted when Estrada commented, "Judge Bourcier sentenced me to seventy years for my first offense," and an audience of judges nodded in recognition of their former colleague's actions.
The rationality for Rhode Island's current long probation sentences was called into question by the experiences of Estrada, who will be on probation until he is 83 years old.  He remarked that on the way to the event that day he had to call to report that he would be leaving the state as the highways took him through Massachusetts.  Later that day, an audience member commented during Q&A that "There is no reason these two men are still on probation."  While the group struggled to identify specific solutions, that point seemed like it must have been dramatically clear to all policymakers in the room.  Pieces of legislation to reduce RI's long probation sentences have been considered in the past (here and here), and Estrada's experience reminded everyone of the need for such efforts.
"Injustice prevails where hopelessness persists," proclaimed Stevenson in his opening remarks.  Despite the overwhelming challenges confronted by the members of the audience, some sort of optimism pervaded the day.  Estrada and Monteiro, convicts turned model citizens, certainly served as beacons for hope. However, Teny Gross, director of the Institute for the Study and Practice of Nonviolence, pointed out that Estrada and Monteiro are extraordinary.  "You have to be extraordinary just to live a normal life," said Gross, describing Estrada and Monteiro's quest to move from poverty to a middle class world.
Several panelists pointed to ongoing programs that offer paths to reform. Molly Baldwin, director of ROCA, stated that her organization has reduced recidivism by 65 percent amongst high risk youth.  ROCA is a nationally renowned organization in Massachusetts that piloted, amongst other things, a Social Impact Bond funding model.  In this "Pay for Success" design, a venture capital firm provides the up-front money to help the state invest in services to prevent crime and re-incarceration, and the state only pays them back if the project succeeds.  This funding structure allows the state to begin the process of retooling its criminal justice system from a mass incarceration model to a prevention model.
An array of current local efforts were also discussed.  John Houston of Justice Assistance and Brad Brockmann of the Center for Prisoner Health and Human Rights, discussed their collaboration to improve awaiting trial discharge planning in order to stop addiction and mental-health fueled reoffending.  Solangel Rodriguez discussed OpenDoor's efforts to help felons find work.  Teny Gross described his institute's work preventing violent crime.  Assistant Attorney General Stacey Veroni referenced the RI Drug Court, the RI Veteran's Court, and Justice Assistance's program to divert into community supervision those that would otherwise be held without bail.  Chief Public Defender Mary McElroy discussed legislation to "turn off the spigot" by reclassifying several petty misdemeanors, such as disorderly conduct, to civil offenses.
But the largest reform conversation was about probation. "Mass probation" is a nationwide phenomenon, but it is especially true here. We have the fourth highest rate of people on probation and are one of three states with the lowest possible standard of proof for revocation hearings.  One in 34 adult white men are on probation in this state, one in six adult black men.  In complete unison, each agency agreed that mass probation was a problem that should be tackled.
Department of Corrections Director A. T. Wall said the number of probationers far exceeds the capacity of his staff to appropriately supervise them, saying that officers must "triage" cases to deal with the overflow.  He remarked that in 2007, policy makers had come together to avert a prison overcrowding problem.  That process resulted in groundbreaking good-time legislation and a marked reduction in the prison population with little political fallout or crime ramifications (in fact, as the DOC data showed, recidivism rates actually decreased slightly from 2004 to 2010).  That 2007 discussion also included several ideas regarding probation reform, which in combination with the ideas discussed at the forum, could serve as a starting point for a renewed push.  Wall called for a followup proactive discussion to solve the probation crisis, and his concerns were reiterated by Veroni, McElroy, Colonel O'Donnell, the Superintendent of the Rhode Island State Police, and several members of the audience.
Laura Pisaturo, the new Parole Board Chair, also stated that any changes would be difficult.  "We must have the courage to implement best practices," she said, "There are no easy solutions."
Though participants did not come to a consensus on what the hard solutions would be, they made substantial progress for a single day's work.  What happens next remains to be seen, but, "I'm not going anywhere," vowed Judge Savage in her closing, offering a promise and a challenge to the audience she had brought together.