Browse:
Home
/
Frank Saccoccio
By Steve Ahlquist on September 20, 2017
"At last, victims of domestic abuse in Rhode Island will not have the constant fear of knowing that the person who abused them still has a gun," said Representative Teresa Tanzi who has championed the bill in the House for at least three years.
Posted in Activism, Featured, Gun Control, Pennsylvania, State House | Tagged Don Bidondi, Donna Personeus, Frank Saccoccio, General Assembly, InfoWars, Jennifer Boylan, Moms Demand Action RI, National Rifle Association, Protect Rhode Island Families Act, Rhode Island 2nd Amendment Coalition, Rhode Island Coalition Against Gun Violence, RICAGV | 1 Response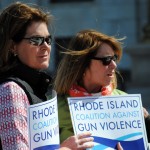 By Steve Ahlquist on January 22, 2016
What has to change in Rhode Island before common sense gun legislation can be passed? Mattiello has an A+ (100 percent) rating with the National Rifle Association (NRA). Senate President M Teresa Paiva-Weed has an A (93 percent) rating from the NRA.
Posted in Civil Rights, Corporate Greed, Featured, Gun Control, National News, News, Rhode Island, State House | Tagged Frank Saccoccio, Jerry Belair, M. Teresa Paiva-Weed, National Rifle Association, Nicholas Mattiello, NRA, Rhode Island Coalition Against Gun Violence | 7 Responses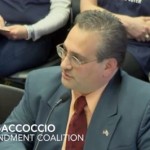 By Steve Ahlquist on April 22, 2015
When testifying before the House Judiciary Committee on bills that would bring state law in line with federal law and close the loophole allowing misdemeanor domestic abusers to keep their guns, Frank Saccoccio, representing the Rhode Island 2nd Amendment Coalition, insisted that he was in no way defending domestic abusers. It's surely not his intent […]
Posted in Criminal Justice, Featured, Gun Control, State House | Tagged cale keable, Frank Saccoccio, Julia Wyman, Rhode Island Coalition Against Domestic Violence, Rhode Island Coalition Against Gun Violence | 2 Responses
By Steve Ahlquist on March 26, 2015
"She called the police and had him arrested. He was charged, had to go through a trial, and he lost. They said he violated the protective order. That case went to the Rhode Island Supreme Court, and it was overturned. But something as simple as that, 'How are you doing?' and you could be right in the middle of this [law], losing your firearms, and you could be convicted of that."
Posted in Criminal Justice, Featured, Gun Control, News, Rhode Island, State House | Tagged domestic violence, Frank Saccoccio, senate judiciary | 6 Responses