Browse:
Home
/
Joe McNamara
By Bob Plain on July 5, 2018
The Rhode Island Democratic Party wants to take back two of four controversial legislative endorsements that lit a fire under the local progressive movement and drew the attention of national media. If successful, Michael Earnheart, a Trump voter challenging incumbent Rep. Moira Walsh, and Greg Accairdo, a former Johnston state Senator who has twice been arrested […]
Posted in Elections, Featured, State House | Tagged Bridget Valverde, Greg Acciardo, Joe McNamara, Micahel Earnheart, Moira Walsh, RI Democratic Party | 2 Responses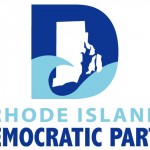 By Lauren Niedel on December 22, 2017
As a member of the RI Democratic State Committee, a Bernie Sanders delegate, and a member of the Women's Caucus and nominating committee, I've tried to be the good Democrat and change the party from within. But it's been difficult from the get-go for me to get information, to feel included and respected. This also […]
Posted in Featured, Politics | Tagged Joe McNamara, Kevin Olasanoye, Nicholas Mattiello, ri democrats | 8 Responses
By Bob Plain on September 6, 2017
Top elected officials in Rhode Island spoke out against President Trump's plan to cancel DACA, the Deferred Action for Childhood Arrivals program that grants amnesty to 800,000 children of undocumented immigrants. "As long as I am Governor of this state," said Governor Gina Raimondo, "Rhode Island will stand up for the American Dream, and the […]
Posted in Featured, Immigration | Tagged DACA, Deferred Action for Childhood Arrivals, Dreamers, Gina Raimondo, james diossa, Javier Juarez, Joe McNamara, jorge elorza, Kilmartin, magaziner, Rodrigo Pimentel, Trump | 1 Response
By Bob Plain on August 16, 2017
Rhode Island Democrats castigated President Donald Trump for equating protesting white supremacy with advocating for white supremacy after a racism rally in Charlottesville, Virginia turned violent and left one woman dead and many others injured. "The United States fought against Nazis and fascism in World War II.  Over 400,000 Americans gave their lives in that […]
Posted in Featured, National News, Race & Racism | Tagged Alan Fung, Bobby Nardolillo, Charlottesville, cicilline, Democrats, Gina Raimondo, Joe McNamara, langevin, Nicholas Mattiello, reed, Republicans, Ruggerio, Trump, whitehouse | Leave a response
By Bob Plain on February 27, 2017
When Rep. Joe McNamara, chairman of the Rhode Island Democratic Party, was on his way to vote for the next chair of the Democratic National Committee in Atlanta on Saturday morning, he didn't know who would emerge victorious – Minnesota Congressman Keith Ellison, his preferred candidate, or former Labor Secretary Tom Perez, the eventual winner. […]
Posted in Featured, National News | Tagged Democrats, dnc, DNC Chair, Joe McNamara, Keith Ellison, Tom Perez | 1 Response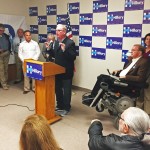 By John McDaid on September 18, 2016
A full roster of elected officials and almost 200 people packed the Rhode Island Democratic headquarters in Warwick Saturday morning to kick off a statewide effort to support presidential nominee Hillary Clinton. The storefront office was standing room only as the governor and our congressional delegation energized attendees with their perspectives on the race and […]
Posted in Featured | Tagged David Cicilline, Gina Raimondo, hillary clinton, jack reed, jim langevin, Joe McNamara, Sheldon Whitehouse | 6 Responses
By John McDaid on July 26, 2016
Members of the Rhode Island delegation were still buzzing about the first-night speakers at the Democratic National Convention as they met for breakfast in Philadelphia. Sen. Sheldon Whitehouse said he was particularly moved by the reaction of Bernie Sanders supporters during his speech. "Seeing the Bernie people, the young people, in the close-ups on TV […]
Posted in Featured | Tagged Bernie Sanders, clay pell, Cory Booker, David Cicilline, hillary clinton, Joe McNamara, Laura Perez, Lauren Neidel, Linda Ujifusa, Sheldon Whitehouse | 1 Response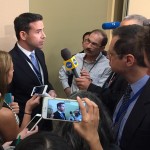 By John McDaid on July 25, 2016
With Sanders organizers fanning out to all the convention hotels to collect delegate signatures supporting a roll-call vote, there was reaction from both the Clinton camp and among local delegates at their daily breakfast meeting this morning. "We anticipate there will be a roll call vote tomorrow night and that every vote will be counted," […]
Posted in Elections | Tagged aaron regunberg, Bernie Sanders, dnc, DNC in Philly, Joe McNamara | 1 Response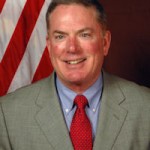 By Andrew Stewart on May 19, 2016
What do Democratic Party Chair Joe McNamara, Justin Katz, the burning of the HMS Gaspee, and a concentration camp have in common? Quite a good deal! There is a bit of a schoolyard tiff being had out in public today between Joe and Justin where they are trying to see who can be the most […]
Posted in Featured, History, Race & Racism | Tagged Aaron Briggs, Carolyn Fluehr-Lobban, gaspee, Joe McNamara, justin katz, Ray Rickman, Richard Lobban | Leave a response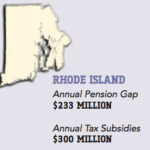 By Andrew Stewart on February 28, 2016
It is time to talk seriously not just about the case of the missing COLAs but what is going to happen when people cannot dip into their savings anymore to make up the difference in their monthly budgets.
Posted in Featured, Pensions | Tagged COLA, Gina Raimondo, Joe McNamara, pensions | 5 Responses