With Sanders organizers fanning out to all the convention hotels to collect delegate signatures supporting a roll-call vote, there was reaction from both the Clinton camp and among local delegates at their daily breakfast meeting this morning.
"We anticipate there will be a roll call vote tomorrow night and that every vote will be counted," said Brian Fallon, Hilary For America's national press secretary, at a media briefing this morning. "We're happy to have it. It is exactly in keeping with our philosophy that every vote should count and that means every delegate being counted on the floor of the convention."
At the Rhode Island delegation breakfast this morning, a volunteer from Pennsylvania was circulating among the tables collecting some of the required 600 delegate names. "It's so that there can be a roll call vote, so people can actually say if they're for Bernie Sanders" said Lauren Niedel, a Sanders delegate and one of the leaders of the Sanders movement in Rhode Island.
"No one would ever ask them not to," said RI Democratic Party chair Joe McNamara. "But I think the important takeaway is the inclusion of those Democratic ideas and ideals that Sen. Sanders promoted in his campaign into the platform. We can see and hear the party uniting behind Secretary Clinton."
John Hamilton, Sanders delegate and committee co-chair, acknowledged the direction that the floor vote seemed likely to head. "I don't think there is going to be a second ballot. I don't see it happening."
Also at the breakfast, McNamara reported on their walk-through of the hall. "We checked out the Wells Fargo Center yesterday, and Rhode Island is positioned exactly where we should be, in the middle of the convention hall, slightly elevated above the rest on the floor, approximately 220 feet from the podium."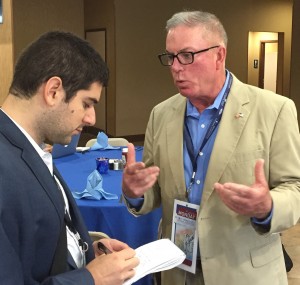 Speaking to an RI Future reporter, McNamara praised the efforts of Aaron Regunberg in representing Rhode Island on the Rules Committee and helping to work out the Unity Commission compromise on superdelegates.
"To have a young, talented state representative like Rep. Regunberg on board gives a great deal of credibility to that," he said. "I think everyone agrees that there has to be some adjustment in that process."
McNamara called Regunberg "A great asset and a great role model for millennials."
In a not-so-subtle dig at Brandon Bell's remarks at last week's Republican Convention, McNamara reported that "Speaker Mattielo will have a positive message tomorrow when he reports the votes, and we're looking forward to a great convention."