Browse:
Home
/
Kate Monteiro
By Steve Ahlquist on June 12, 2017
Providence kicked off Pride on Sunday with a rally at the Rhode Island State House followed by a march to Providence City Hall for a Pride Flag raising event featuring Mayor Jorge Elorza and Governor Gina Raimondo. Across the country Pride events are being challenged to be more inclusive and diverse. In Boston yesterday the […]
Posted in Activism, Boston MA, Civil Rights, Featured, Health Care, Inequality, LGBTQ, National News, Photos, Providence, Rhode Island, State House, Video, Women, Youth | Tagged After Orlando, Ashley Delgado, Beth Alianiello, Christian Fairlove, Dave Rabinow, George Evans Marley, Gina Raimondo, Jeff Hodge, Joe Wilson Jr, jorge elorza, Kate Monteiro, Kelly Henry, Lynne Collinson, Melody Lucas, Milly Massey, Naomi Chomsky, Nika Lomazzo, Orlando FL, pride, Pride Flag, Providence City Hall, Pulse, Rhode Island Pride, Rhode Island State House, Tim Rondeau, Wilbury Theater Group | Leave a response
By John McDaid on February 8, 2017
More than 70 women attended the standing-room-only kickoff of a brand new Women's Caucus at Rhode Island Democratic Party headquarters in Warwick last night. The 2-hour meeting brought together political leaders, activisists, educators, entrepreneurs, and a wide range of other professionals from 21 RI cities and towns to organize this new women's-issue-focused group within the […]
Posted in Featured, Women | Tagged Emerge RI, gayle goldin, June Speakman, Kate Monteiro, Lauren Carson, Nellie Gorbea, Women's Caucus | Leave a response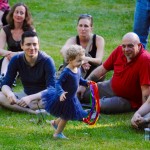 By Steve Ahlquist on June 15, 2016
Rhode Island continues to respond to the terrible events that took place at the Pulse nightclub in Orlando in beautiful, moving and powerful ways. Last night hundreds gathered at the Roger Williams National Memorial, the site of our state's very first Pride event 40 years ago, in solidarity, mourning and empowerment.
Posted in Activism, Featured, Gun Control, LGBTQ, Youth | Tagged Donna Nesselbush, Ethan Huckel, Gina Raimondo, Jennifer Smith Boylan, jorge elorza, josh miller, Kate Monteiro, moms demand action, Nicholas Mattiello, Pulse, RI Council for Muslim Advancement, TGI Network of RI, YPI | 2 Responses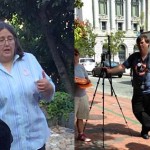 By Bob Plain on September 2, 2015
At its annual gala, Rhode Island Pride will recognize Kate Monteiro, a gay rights activist, and Steve Ahlquist, a progressive journalist, for their contributions to the LGBT community. The event is Sunday, September 13, 6:30 at the Providence Marriott. Monteiro, who has been on the front lines of the fight for gay rights in Rhode […]
Posted in LGBTQ | Tagged Kate Monteiro, LGBT, RI Pride, Steve Ahlquist | 1 Response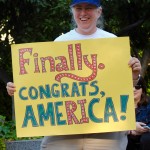 By Steve Ahlquist on June 27, 2015
"Can you imagine if we could go in time and bring Roger Williams here today?" asked Rodney Davis to laughs, "but when you boil it down and get to its purest sense, Freedom, Liberty and Justice was the reason why he came here…"
Posted in Activism, Civil Rights, Events, Featured, History, LGBTQ, National News, News, People, Photos, Providence, Religion, Rhode Island | Tagged C. Kelly Smith, Edie Ajello, elizabeth roberts, frank ferri, Jenn Steinfeld, jorge elorza, Kate Monteiro, marriage equality, Marti Rosenberg, Rodney Davis, Roger Williams, SCOTUS, seth magaziner, tony caparco | 1 Response