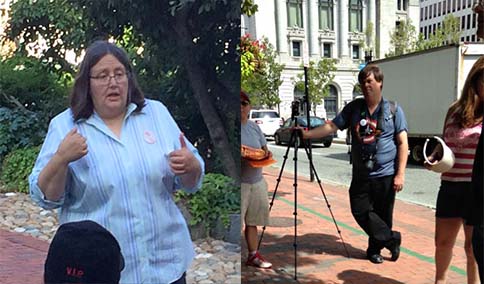 At its annual gala, Rhode Island Pride will recognize Kate Monteiro, a gay rights activist, and Steve Ahlquist, a progressive journalist, for their contributions to the LGBT community. The event is Sunday, September 13, 6:30 at the Providence Marriott.
Monteiro, who has been on the front lines of the fight for gay rights in Rhode Island for decades, will be presented with the prestigious "Pyramid of Pride" award.
"Kate's tireless advocacy for the state's LGBT community dates back more than 30 years and while no one individual could ever be said to be the single leading light of the struggle for gay rights in Rhode Island, her name would unquestionably come up for consideration in any such discussion," RI Pride said in a press release. "In 2015, the year that has seen nationwide legalization of gay marriage, it is only fitting that the Pyramid of Pride award should go to Kate Monteiro."
Monteiro said of the honor,"It sounds like cliche to say I stand on the shoulders of giants. But the truth is I have been blessed to have been born and raised in this time and place – to be witness to such great changes, and to have worked shoulder to shoulder with so many great RI activists – a great number of the straight allies who took our cause as their own. You can't ask for a better place to raise some hell than the Greatest Little State!"
Ahlquist, a journalist for RI Future and a well-respected community activist, is being honored with the "Spirit of Pride" award.
"Steve has tirelessly covered any and all LGBT events from marriage equality testimony in the Statehouse to rallies against hate  crimes and efforts to promote transgender health," said RI Pride of Ahlquist. "His activism is by no means limited to the gay community as he also advocates workers' rights, efforts against homelessness, and other social justice issues including those that affect women, racial minorities, and any other marginalized groups in the state.  Steve is primarily known as one of the founders of the Humanists of Rhode Island and was honored as their Humanist of the Year in 2014.  Rhode Island Pride takes great pleasure in following the Humanists and designating Steve Ahlquist as the recipient of the Spirit of Pride Award in 2015."
Ahlquist said, "I am deeply honored and humbled to be recognized by RI PRIDE. I will treasure this award and let it remind me every day that there are countless people without voice seeking liberation and equality. I see it it as my duty, as a journalist, not to provide the voice, but to provide the microphone, the amplifier, through which these voices can be heard. I won't stop."
The gala will also feature food and live music. Click on the image for more information: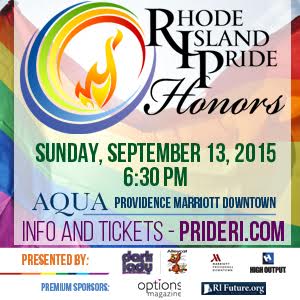 RI Pride honors Steve Ahlquist, Kate Monteiro

,