Browse:
Home
/
spectra pipeline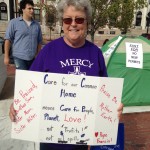 By Andrew Stewart on September 23, 2015
A small group of protestors from a variety of socio-economic backgrounds repeated their opposition to the proposed methane gas power plant in Burrillville. Simultaneous with this event, Governor Raimondo welcomed the Prime Minister of Cape Verde, José Maria Pereira Neves. Among the protesters was Randall Rose of Occupy Providence, Dr. Peter Nightingale  of the University of […]
Posted in Activism, Climate, Energy, Featured, Politics | Tagged Burrillville Against Spectra Expansion, Cape Verde, Gina Raimondo, pope francis, Randall Rose, Robert Malin, Spectra Energy, Spectra Energy Compressor Station, spectra pipeline | 4 Responses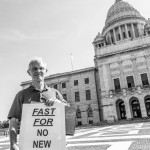 By Peter Nightingale on September 17, 2015
"You can't negotiate with a beetle. You are now dealing with natural law. And if you don't understand natural law, you will soon." Oren Lyons, a member of the Onandaga Council of Chiefs, quoted by Mary Christina Wood in her book Nature's Trust, sums up what's wrong with our self-absorbed political system and its failure […]
Posted in Activism, Class Warfare, Climate, Featured | Tagged climate change, fracked gas, fracking, Gina Raimondo, methane gas, natural gas, spectra pipeline | 1 Response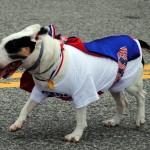 By Steve Ahlquist on July 5, 2015
There is nothing more American than a parade, and parades are paeans to socialism. They run on publicly funded streets, feature military equipment and fire apparatus paid for with taxes to protect the public good, and are supported by local governments.
Posted in Arts & Culture, Events, Featured, Holidays, Photos, Rhode Island | Tagged Bernie Sanders, Glocester Ancients & Horribles Parade, spectra pipeline | 2 Responses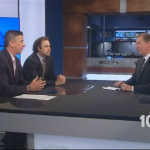 By Bob Plain on April 6, 2015
A proposed pipeline that would transport fracked gas from Pennsylvania – through Burrlliville, Rhode Island – on its way to Canada is being sold to the American people on the promise of lowering northeast energy prices. But we know fracking contaminates water and we know the new pipeline will keep the public's energy supply married […]
Posted in Featured | Tagged burrillville, Energy, fossil fuels, fracked gas, fracking, green energy, natural gas, pipeline, spectra pipeline, sustainability | Leave a response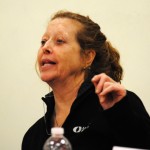 By Steve Ahlquist on February 24, 2015
Kathy Martley, of Burrillville Against Spectra Expansion, was blunt about the potential environmental impacts, saying, "Burrillville is Rhode Island's sacrifice zone."
Posted in Activism, Climate, Corporate Greed, Featured | Tagged BASE, burrillville, domestic violence, fang, jack reed, Just Transition, Kathy Martley, People's Power & Light, RISCC, Sacrifice Zones, Sheldon Whitehouse, Sherrie Andre, spectra pipeline, Wallum Lake | Leave a response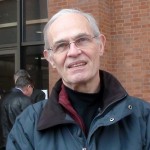 By Steve Ahlquist on February 19, 2015
Peter Nightingale, the University of Rhode Island physics professor arrested during a civil disobedience sit-in at Senator Sheldon Whitehouse's Providence office last December, left court today after settling all charges by agreeing to pay a $300 fine. Shortly after the court decision, at a press conference held outside the Garrahy Court Complex, Nightingale reiterated the […]
Posted in Activism, Climate, Featured | Tagged fang, fossil free ri, Nick Katkevich, Peter Nightingale, Sheldon Whitehouse, Sherrie Andre, spectra pipeline | 3 Responses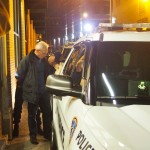 By Peter Nightingale on December 18, 2014
I'm a 67 year-old physics professor at the University of Rhode Island. I have a wife, four kids, five grandchildren and sixth on the way. I would claim to be a respectable citizen, and yet, earlier this week Senator Sheldon Whitehouse had me arrested for caring about the global climate. About ten friends from the […]
Posted in Activism, Climate, Featured | Tagged climate change, fang, fossil free ri, fracked gas, NOPE, spectra pipeline, whitehouse | 6 Responses