By Will Weatherly on July 23, 2018
The sound outside of Rhode Island Hospital and Hasbro Children's Hospital in Providence was deafening on Monday afternoon as hundreds of nurses and other members of Local 5098 of the United Nurses and Allied Professionals (UNAP) began their three-day strike for a fairer contract. The union's previous contract with the hospital ended on June 30. Both […]
Posted in Activism, Corporate Greed, Featured, Health Care, Labor, News, Providence | Tagged aaron regunberg, Hasbro Children's Hospital, health care, Justice Gaines, Labor, Laufton Ascencao, Lifespan, rhode island hospital, UNAP, UNAP Local 5098 | Leave a response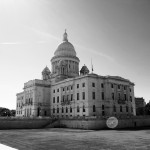 By Steve Ahlquist on July 21, 2017
The delay in passing a budget has "real and mounting human costs"…
Posted in Activism, Civil Rights, Economics, Featured, Justice, Minimum Wage, National News, Religion, Rhode Island, State House | Tagged American Baptist Churches of Rhode Island, Center for Prisoner Health and Human Rights, DARE, direct action for rights and equality, Dominick Ruggerio, Economic Progress Institute, fuerza laboral, Georgia Hollister-Isman, Gloria Dei Lutheran Church, Mental Health Association of RI, Ministers Alliance of Rhode Island, Nicholas Mattiello, Planned Parenthood of Southern New England, Progreso Latino, Rachel Flum, Religious Coalition for a Violence-Free Rhode Island, Rhode Island Chapter, Rhode Island Coalition Against Domestic Violence, Rhode Island General Assembly, Rhode Island Public Radio, Rhode Island State House, RI Community Action Association, RI Council of Churches, RI Jobs with Justice, RI NOW, RI Racial Justice Coalition, RI Regional Adult Learning, RI Working Families, RIRAL, sierra club, Step Up Center International, UNAP, United Nurses and Allied Professionals | Leave a response
By Steve Ahlquist on February 3, 2017
Two unions, IBT Local 251 and UNAP, picketed, marched and got loud on Thursday to drag Lifespan to the bargaining table in order to put a stop to the policy.
Posted in Featured, Health Care, Labor, News, Photos, Video | Tagged AFL-CIO, george nee, Helene Macedo, IBT Local 251, Lifespan, Matt Taibi, rhode island hospital, UNAP, United Nurses Allied Professionals | Leave a response
By Bob Plain on January 10, 2017
If a nurse at Rhode Island Hospital seems a little bit under the weather, it may be because they were afraid to call in sick. Doing that too often at the Lifespan-owned hospital can cost employees their job, per a revised employee policy hospital employees' unions strongly oppose. "In no way are these policies intended […]
Posted in Featured, Labor | Tagged rhode island hospital, sick time, Teamsters, UNAP | Leave a response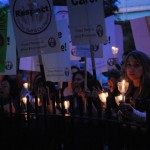 By Steve Ahlquist on August 28, 2015
Members of the United Nurses and Allied Professionals (UNAP), Local 5098, at Rhode Island Hospital, with labor and community allies, held a candlelight vigil and march Thursday evening to call attention to to unsafe staffing levels and other problems that continue to remain an issue in negotiations. UNAP members have been working without a contract since June 30th.
Posted in Activism, Civil Rights, Class Warfare, Corporate Greed, Events, Featured, Health Care, International News, Labor, National News, News, People, Photos, Providence, Rhode Island, Video | Tagged Helene Macedo, Lifespan, rhode island hospital, UNAP | 2 Responses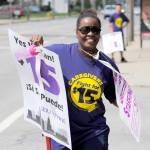 By Steve Ahlquist on July 31, 2015
The rally was also just two miles from the Massachusetts border, where home care workers recently won a minimum wage of $15 to be phased in over the next few years. Rhode Island does not pay nearly as much.
Posted in Class Warfare, Corporate Greed, Economics, Featured, Health Care, Labor, National News, Photos, Rhode Island, Video | Tagged david bennett, Mary Duffy Messier, Medicaid, Medicare, NEARI, Progressive Democrats of Rhode Island, Rhode Island Jobs with Justice, RI AFL-CIO, Scott Slater, SEIU 1199 New England, Teamsters Local 251, UFCW, UNAP, Unite Here Local 217 | 2 Responses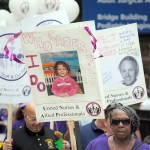 By Elisha Aldrich on July 10, 2015
The corners of Eddy and Dudley streets were lost in a blur of purple as more than 400 nurses and other professionals working at Rhode Island Hospital picketed for higher wages, retirement benefits, and more staff. The United Nurses and Allied Professionals (UNAP) Local 5098, shared its concerns about the unwillingness to effectively staff the […]
Posted in Featured, Health Care, Labor, Rhode Island | Tagged healthcare, Helene Macedo, Lifespan, nurses, Protest, rhode island hospital, UNAP | 2 Responses