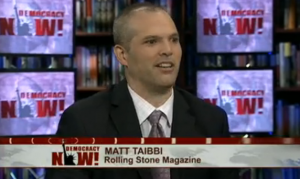 I want to thank Matt Taibbi.  Unlike many national journalists, he admits when he goes far too easy on Rhode Island Democrats.  On Friday, he published a new article acknowledging Raimondo's party affiliation and tying her to the national trend of conservative Democrats in the Wall St. camp.  If you ignore a glaring and egregious spelling error, it's a great piece.  Taibbi ends with my favorite line, "Readers, if I'm missing something, please let me know."
That's an invitation I can't turn down.
There is still much that bothers me about Taibbi's approach of going soft on Rhode Island Democrats.  I wish, for instance, that he wouldn't use the deceptive right-wing phrasing "pension reform" to describe the pension cuts.  But I have a much more foundational critique.  He is missing the bigger story–what has happened to the General Assembly.
Raimondo, as Taibbi rightly notes, is very similar to a number of conservative Democrats around the country with strong ties to the finance industry.  But this sort of pro-finance attitude is a fairly common feature of the modern Democratic party.  Sadly, the conservatism of General Assembly Democrats takes on an entirely different character.
Most out of state pundits forget this, but the legislature that so gleefully passed the pension cuts is the same legislature that passed a voter ID law.  These are the people who gave us a D+ rating from NARAL Pro-Choice America–the worst of any solid blue state.  It was these so-called Democrats who pushed through the steep 2006 tax cuts for the rich that blew up the budget in the first place.  The top four leaders of the Democratic caucus in our state legislature–House Speaker Gordon Fox, Senate President Teresa Paiva-Weed, House Majority Leader Nick Mattiello, and Senate Majority Leader Dominick Ruggerio–have each taken thousands of dollars from the NRA.  And I believe those contributions were illegal.  (The Board of Elections is still deliberating on my complaint.)
Down the line, the policies the General Assembly's leadership has enacted have not been the policies of ordinary Wall St. conservative Democrats.  They have been the policies of Republicans.
As Ann Clanton famously put it when she was Executive Director if the Rhode Island Republican Party, "We have a lot of Democrats who we know are Republican but run as a Democrat–basically so they can win."
Raimondo is not as extreme.  When leadership wanted to skip a pension payment during the recent budget battle, Raimondo and some of the more moderate conservatives in the House balked.  I don't know how true this is, but she does claim that she opposed one of the more odious components of the pension cuts.
On social issues, Raimondo makes a cleaner break from the extremists in the General Assembly.  She is pro-choice.  Unlike the leaders of the General Assembly, she is not an NRA Democrat.  Although she never issued a full divestment statement, she did pressure a distributor to stop distributing assault weapons, and she did send out a press release saying she would look into divestment.  (Full disclosure: I led an unsuccessful calling campaign to try to get her to issue a formal divestment statement.)
Let me be clear.  I am no fan of Raimondo.  I plan on voting against her in the primary.  But I understand that she is not as conservative as the nominally Democratic leadership in the General Assembly.
I trust Rhode Islanders to stand firm against the money tsunami and vote Raimondo out of politics this September.  In a gubernatorial race, there is enough press scrutiny that it is very hard for this sort of conservative to win.  But in tiny, low-turnout Democratic primaries for General Assembly seats, where politics has more to do with personal connections and money than issues, candidates far more conservative than Raimondo routinely win easily.  That's the core problem Rhode Island faces.  And that's the story I wish Matt Taibbi would cover.
Taibbi is still missing the real story

,