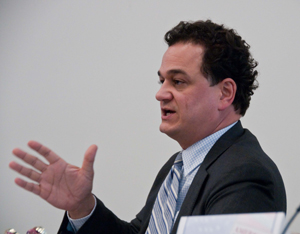 "That's part of the discussion," said House Speaker Gordon Fox yesterday afternoon when I asked him if raising income taxes on Rhode Island's richest residents might be part of the solution to balancing Rhode Island's budget for next year.
Fox told me he will be discussing the issue with Rep. Maria Cimini about her bill that would raise taxes on those making more than $250,000 by 2 percent, but he said he didn't want to talk too much about it because it is being considered in the larger context of the budget, which is currently being crafted by the two finance committees and their chairmen.
"Right now it's still very fluid," he said.
A similar bill sponsored by Rep. Larry Valencia would raise taxes by 4 percent of those who make more than $200,000. Conservative economic expert Gary Sasse last year even proposed an increase, though smaller than both Cimini and Valencia's proposals. Cimini's bill could be seen as a compromise as progressives have been flooding the State House with calls about services that desperately need additional resources, such as affordable housing, homelessness, public education and economic reform.
Fox has been a strong proponent of keeping taxes low on the richest Rhode Islanders, in fact he sponsored a 2010 bill that was the most recent effort by the General Assembly to lower taxes for the rich. But this year, with the state facing a $50 million shortfall, he has given new consideration to income tax reform – a policy popular statewide and on the liberal East Side of Providence.
He said the state is due for a "broader argument" about "austerity versus raising revenue." To his mind, "it's a balance," he said.
"We've had to make some cuts to some traditional Democratic constituencies," Fox said, "it's been hard."