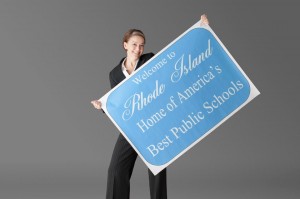 Local teacher union leaders took matters into their own hands at last Monday's (April 8) Board of Education meeting. Dissatisfied with RIDE's lack of response to teacher criticism of the statewide evaluation system, a dozen or so presented a letter to the Board asking that a review committee be established at the state level to monitor the evaluation process.  Chariho teacher Bob Mayne read the letter to the Board, but was frustrated further when his allotted two minutes did not allow time to finish.
Mayne said, "The educators of Rhode Island believe in a rigorous, fair and consistently applied evaluation system.  As of now, this Educator Evaluation System meets none of these.  Much feedback has been provided yet it does not feel like anyone wants to listen.  The whole situation is very frustrating."
Earlier in the year, nearly 5,000 educators signed a petition at www.slowridedown.com that took issue with the use of Student Learning Objectives (SLOs) in determining teacher effectiveness. It's the comment section of the website that is the most eye-opening – any thoughtful person would find more than enough information there to warrent taking another, harder look at the process. These are real teachers who have strong, legitimate reasons to ask RIDE to reconsider its direction. There's no better testimony than that.
The text of the letter to the Board is as follows:
As local leaders, we constantly hear from our members about their concerns and issues with the new Educator Evaluation System put into place by the Rhode Island Department of Education. This past February, over 5,000 educators signed a petition, many with personal comments, asking RIDE to slow the process down until it was determined to be a fair and equitable measure to evaluate all of Rhode Island's teachers and administrators.

We still do not believe that the system is a true measure of an educator's effectiveness; chief among the concerns is the inconsistency from district to district, within districts, and even within schools. Each district in Rhode Island has its own story and each one can certainly share its concerns and issues with you. We, as a group, will be more than glad to do so as well.

We also want it plainly stated and understood that we as educators believe in a rigorous evaluation system – one that places a premium on improving instruction and helping us grow as professionals. We will be accountable, but to a system that is fair, equitable and proven to be successful.

It is extremely critical that teachers and administrators have confidence in the system, something we believe – in talking with teachers in our own districts and across the state – is currently not the case.

RIDE mandates an evaluation committee at the local level as part of the evaluation process. The committee includes teachers, union representatives and administrators. The purpose of this committee is to resolve issues, inconsistencies, and more. There is no such mechanism at the state level. Teachers and administrators need to have a similar voice at the state level with the Board of Education.

In an effort to address the concerns raised, instill confidence in those being evaluated by the system and to ensure future success, we, the following local NEARI presidents, request that the Board of Education establish an Evaluation Review Committee, made up of a majority of educators, to review the current system, address issues raised regarding the implementation of the new system and make recommendations to the Board of Education for adoption in the 2013-14 school year.

We recommend a 13 person committee: six teachers (two appointed by NEARI, two by RIAFT, and two former Rhode Island Teachers of the Year (drawn by lottery), two principals, two superintendents and three members of the Board of Education.

The Evaluation Review Committee would report back to the Board of Education with its recommendations, no later than July 31, 2013.
(Ed. note: Karen Jenkins works for the NEA-RI, which is a frequent advertiser with RI Future. I've asked her to submit pieces to RI Future that she thinks would be interesting for our readers because I think our readers like to know what the NEA-RI in general and the labor movement in particular is up to. But me asking her to submit these pieces has no relationship to the NEA-RI spending any money with us – I'd do that whether they advertised or not.)