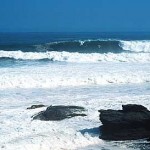 No artificial jetty will impede the Ruggles surf break in Newport, according to the Boston Globe as DOT officials have decided to find another way to repair the storm-damaged, tourist-attracting Cliff Walk. Director Michael Lewis, as it turns out, has a special affection for waves.
A few minutes before the RIDOT meeting, Director Michael Lewis approached Sid and revealed, as chance would have it, that he himself had some personal interest vested. "He basically took me aside before the meeting and told me, 'Listen, Sid, we're not gonna go through with this plan. We're open for suggestions on how to get around this, but there's not gonna be any jetties and we're gonna discuss minimal armor stone. My son actually goes to the University of California at Santa Cruz. He's a surfer. I just got back from Hawaii myself.' This is the head of the RIDOT we're talking about. The main guy. The one at the middle of the front of the table! He and his assistant, Peter Healey, both those guys were right on the money."
Thanks for tweeting this video, Patrick Anderson of Providence Business News.