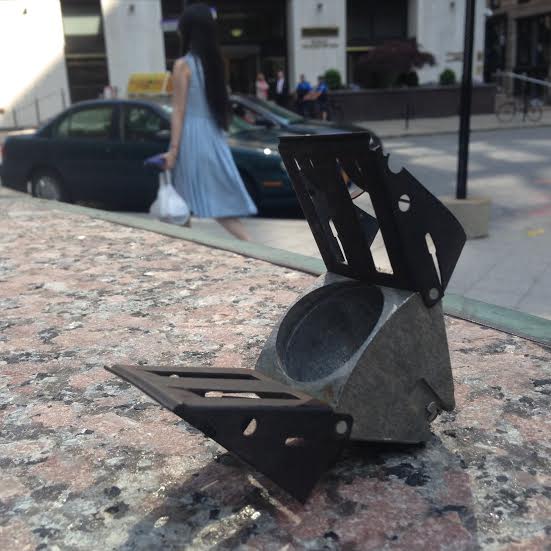 After global pressure from human rights groups, increasing pressure from Washington DC and months of protests locally, Textron is getting out of the cluster bomb business.
"The process of selling this product internationally has become complex to the point that the company has decided to exit the business," said Textron spokesman David Sylvestre. "Under a different political environment it would have been a sustainable business for us."
Textron filed a report with the Securities and Exchange Commission on Monday that confirmed the Providence-based conglomerate is stopping production of cluster bombs, or what the company calls sensor-fuzed weapons.
"The plan provides for Textron Systems to discontinue production of its sensor-fuzed weapon product, in light of reduced orders, which will generate headcount reductions, facility consolidations and asset impairments within its Weapons and Sensors operating unit and also includes additional headcount reductions and asset impairments in the Textron Systems segment," says the filing, which was first reported by Inside Defense, an online news organization that covers the defense industry.
The filing cited the beltway politics and reduced orders as the reason it will no longer make cluster bombs.
"Historically, sensor-fuzed weapon sales have relied on foreign military and direct commercial international customers for which both executive branch and congressional approval is required," Textron wrote in the SEC filing. "The current political environment has made it difficult to obtain these approvals. Within our Industrial segment, the plan provides for the combination of our Jacobsen business with the Textron Specialized Vehicles businesses, resulting in the consolidation of certain facilities and general and administrative functions and related headcount reductions. We anticipate the overall plan to be substantially completed by March 2017."
Cluster bombs are one of the world's most controversial weapon of war. One large missile launches several sub-munitions that are supposed to seek out armored vehicles. If they don't hit a target, Textron's cluster bombs are said to automatically deactivate. Human rights groups have produced evidence that Textron's cluster bombs don't always work as designed.
Cluster bombs are banned by 119 nations, but not by the United States and Saudi Arabia. Textron was the last North American company to produce and sell cluster bombs, and one of the last private companies in the world to do so. Saudi Arabia was one of the final foreign nations to buy Textron cluster bombs from the US government. Human rights groups have been uncovering evidence since February that shows Textron's cluster bombs have been used in civilian areas of Yemen, a country currently at war with Saudi Arabia.
"Textron has taken the right decision to discontinue its production of sensor fuzed weapons, which are prohibited by the 2008 Convention on Cluster Munitions," said Mary Wareham, of Human Rights Watch. "Textron was the last US manufacturer of cluster munitions so this decision now clears the path for the administration and Congress to work together to permanently end US production, transfer, and use of all cluster munitions. Such steps would help bring the US into alignment with the international ban treaty and enable it to join."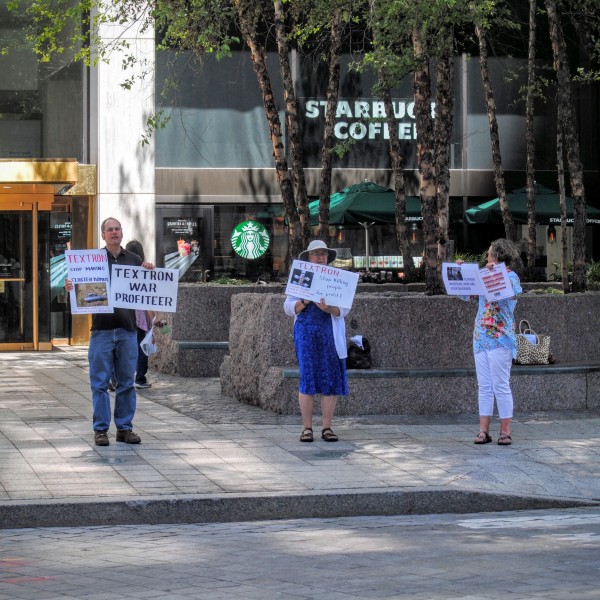 RI Future was one of the first news organizations in the world to report on Textron's cluster bombs being used in civilian areas of Yemen. The news inspired months of local protests in front of Textron's downtown Providence headquarters. In May, Textron CEO Scott Donnelly responded to the protests with an op/ed in the Providence Journal.
Sylvestre, the Textron spokesman, said the local protests "didn't drive the decision to exit" the cluster bomb market but added, "clearly it was noticed."
The weekly protests outside Textron headquarters in Providence, led by the American Friends Service Committee of Southeastern New England and the Fang Collective, briefly spread to peace groups in Massachusetts. "This was inspired by the Providence protests," said Cole Harrison, executive director of Mass Peace Action.
Simultaneously, pressure increased from inside the beltway. In May, Foreign Policy magazine reported that the Obama Administration "quietly placed a hold on the transfer of cluster bombs to Saudi Arabia." In June, a congressional resolution to cease the sale of cluster bombs to Saudi Arabia was defeated but received 204 affirmative votes in the House of Representatives. Congressmen David Cicilline and Jim Langevin both voted for the resolution.
Senator Jack Reed was the only member of the Rhode Island delegation to support the sale of cluster bombs to Saudi Arabia. In June, he told RI Future, "I think we should still be selling those weapon systems that comply with the law." While Textron maintains their cluster bombs did comply with US trade law, which stipulates that cluster bombs sold to foreign government cannot malfunction more than 1 percent of the time, while Amnesty International and Human Rights Watch both produced independent evidence that they malfunctioned more often than this in Yemen.
Sylvestre, the Textron spokesman, said the company will cease making cluster bombs by March of 2017. He did not know if or how many cluster bombs Textron still has to produce and/or sell.
This post will be updated.
Read RI Future's full coverage of Textron's cluster bombs here:
Textron to stop making cluster bombs

,