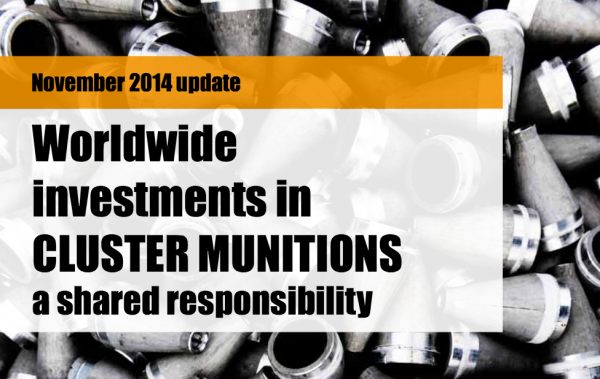 Rhode Island-based Textron sold cluster bombs to seven foreign nations since 2004, according to a report from PAX, a peace group that is part of a global initiative to end the production and use of these increasingly controversial air-to-armored vehicle weapon of war.
Textron's cluster bomb, the only such weapon still made in North America, was recently featured in a Human Rights Watch report condemning the use. The report says Textron's product malfunction more than 1 percent of the time, which would be a violation of US export law pertaining to the sale of cluster munitions to foreign governments. The HRW report tells of civilian injuries from errant cluster bomb projectiles during Saudi-led military raids on Yemen. Saudi Arabia purchased the cluster bombs from Textron, via the US military.
The 2014 Worldwide Investment in Cluster Munitions report says the longtime Rhode Island conglomerate has sold cluster bombs to: Turkey, Oman, United Arab Emerites, South Korea, India, Taiwan and Saudi Arabia.
About half of the cluster bombs Textron produces are sold to foreign governments, Textron spokesman David Sylvestre told RI Future. The report, citing the company's 2013 factbook, says Textron has sold more than 7,400 of the cluster bombs to the US Air force and foreign governments. "It's an important program for us," Sylvestre said.
It's an important program of a different kind for PAX and the Cluster Munitions Project. "Textron is included on the red flag list because there is sufficient evidence that the company has produced the SFW after May 2008," says the report. "The company has not stated publicly that it will end its involvement in the coming 12 months."
The 200 page report devoted to private sector cluster bomb industry has one-page a section about Textron under the chapter "Hall of Shame: Financial Involvement and Investments." Textron is on the "red flag" list – the seven companies most responsible for the continued production of cluster bombs. There are only two American companies on the red flag list: Textron and ATK, which was included because it makes a component of the Textron cluster bomb. Like Textron, ATK has a diverse portfolio. It makes military grade defense weapons, firearms for civilians, ammunition, stand up paddle boards, Bolle sunglasses and Camelbak water bottles. Textron also makes Cessna airplanes Bell helicopters, golf carts, gas tanks and power tools.
Textron is a longtime Rhode Island-based company with about 300 employees in the Ocean State and more than 34,000 across the globe.
Sylvestre told RI Future military products, made by subsidiary Textron Systems, represents about 11 percent of Textron's total revenues. DefenseNews lists Textron as the 17th largest military contractor in the world, with $4.179 billion in defense revenue in 2014. It says 34 percent of the company's revenue comes from military contracts.
Three of four members of Rhode Island's congressional delegation has responded for comment about America's continued role in cluster bomb use and production. Much of Europe, Canada and 118 total nations have already banned the use of cluster bombs. The United States has not but has committed to curtailing their use and danger.
"Cluster munitions pose an unacceptable danger to civilians," said Congressman David Cicilline. "I've advocated for restricting the use of these weapons in the past, and I'll continue working to limit the risk they pose to civilians."
Senator Sheldon Whitehouse, a co-sponsor of the Cluster Munitions Civilian Protection Act, said, "Cluster bombs can take a terrible and lasting toll on civilians, which is why I've cosponsored legislation to restrict their use. I hope the Senate will take action on this bill to help protect innocent civilians from these dangerous weapons of war."
Senator Jack Reed, the senior Democrat on the Armed Services Committee, "has supported efforts to limit the sale and transfer of cluster munitions and to ensure the use of more precise technologies to protect civilians," according to spokesman Chip Unruh.
Read our full coverage of Textron's cluster bombs here:
Textron sold cluster bombs to 7 foreign governments

,