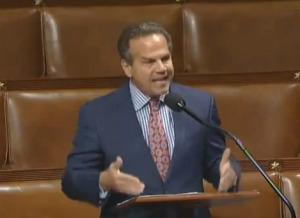 It is rare for me to call my elected representatives, and rarer to call them allies. Like many Rhode Islanders, I swim against a tide of cynicism.
However, Congressman Cicilline, whatever brand of patriotism has motivated you to oppose the NSA and its spying, for that patriotism you have my own honor in accord. I am with you.
I am quite unsure whether or not the rest of our delegation will do what you have bravely done: co-sponsor and support the USA Freedom Act in order to limit, and hopefully soon end, these flagrant abuses of power by the NSA and other surveillance programs.
For you, sir:
I will never forget, and will forever cherish, the day I witnessed our Congress, your Congress Mr. Cicilline, an edifice I had long given up on, rise up and strike against a beast that grew in darkness. You, our public servants so often estranged, had a special fire in you. I saw, perhaps for the first time in my adult memory, an unlikely coalition of fearful friends struggle to defend the dignity of their people. This was no fool's errand; it spoke to the heart of what we need from you now. More than ever we need it, from all your fellows!
We may have missed by twelve votes then, but not this time. We have a better bill, and a more focused will to fight.
Remarkably I find myself with a renewed faith that, in the ever-darkening halls of public office, there may remain enough principled people to make these, the toughest of decisions: those that may cost us the cheap domain of comfort, and they, their own seats of power, all to alleviate the real suffering of another.
I am with you, sir, as nothing secures our common dignity but our willingness to be vulnerable. Together! May those who feel otherwise be banished to the safety of their small hearts and soulless thrones. We all suffer for our inaction, so thus let us bear the burden together, at once, and abolish these programs of suspicion, torture, and murder!
For the reader: please consider reaching out to our other delegates in Congress, Senators Reed and Whitehouse, and Representative Langevin, and to all who will listen. Implore them to fight back against this regime of unwarranted spying and data collection that threatens our privacy and self-respect as a society. Support the USA Freedom Act! Follow this issue and those most difficult to come. Dearest reader, we cannot afford to do otherwise, and so much more remains for us to bear.
In earnest, for his protection of our common liberty, let us thank Congressman Cicilline for his service.
Thanks for standing against domestic spying, Congressman Cicilline

,