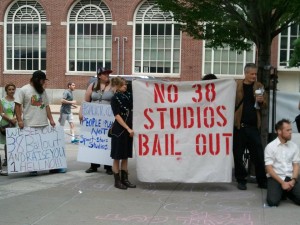 Should we the people of Rhode Island pay large institutional bondbuyers $100 million we don't legally owe them?
It's the biggest political and economic dilemma facing the Ocean State since pension cuts and our elected officials don't want the discussion to happen.
Last week, a legislative committee tasked with investigating the pros and cons to taxpayers was roundly criticized for holding an informational meeting on the $100 million question but only presented one side of the debate. After the session, Ted Nesi, Rhode Island's most respected reporter, wrote this gem of a lede:
"In a battle pitting Rhode Island against Wall Street, Wall Street will always win."
As someone who vehemently wants Rhode Island to be more politically powerful than Wall Street, it felt like I had the wind knocked out of me when I read this. Then, Ian Donnis of RIPR added insult to my economic theory injury by writing in his weekly news/media column: "If you read one overview on the debate over defaulting on 38 Studios' bonds, make it this one by Ted Nesi."
But is it true that Wall Street will always win when its interests are pitted against the people of Rhode Island?
Enter Occupy Providence and the the Stephen Hopkins Center to help the state figure it out.
I think they had a better discussion on this issue than did the rest of the state. You can watch the entire hour-long public discussion here. Please, for the love of Rhode Island and its economic well-being, at least compare and contrast this with this discussion by the legislative committee designated to study the decision, which you can watch here.
I think Elaine Heebner, who isn't a financial expert at all, offers one of the most important perspectives on this very big political and economic question for the Ocean State.
These economic experts, moderated by WJAR's Bill Rappleye, disagreed with the theory put forth by our political leaders. Bob Cusack, a former bondbuyer and former East Providence city councilor, said he doesn't suspect the fiscal implications of default will be as severe as some are predicting. (For more on the fiscal merits of default, read this post by Cate Long, of Reuters, who crunched the numbers.)
Perhaps just as importantly, the panel faulted state leaders for not having a robust debate about it. Cusack, said something at the State House on Thursday that I think we can all agree with: "It's not enough for pundits and even officials to predict the reaction of rating agencies." He suggested we ask them ourselves.
As I've written on several occasions now, I think this $100 million question will show a new kind of political divide for Rhode Island – one in which we see who thinks Rhode Islanders fiscal interests should be subservient to Wall Street's. I don't know if they are, and hope for the people's sake they are not.
Plus, I would really like to get to write this headline: "RI to Wall Street: Drop Dead"