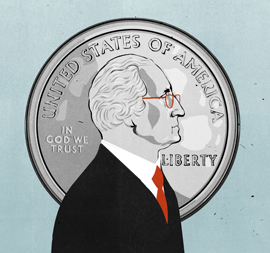 There are two intellectual positions with which I have serious problems.
The first is the whole idea that markets are efficient; the second is libertarianism as a legitimate school of thought.
First, markets, since some of libertarianism (from what I can gather) is based on the idea that markets should be utterly unfettered (I paraphrase).
Found this interesting:
http://www.bostonreview.net/BR37.3/ndf_michael_j_sandel_markets_morals.php
It's a discussion on whether all things should be subject to free markets. What's the answer?
These are directions that the article doesn't go. Markets are supposed to be the most efficient way to allocate scarce resources.  So, do they always work optimally? Do they always work?
Here's a scarce resource: admission to elite colleges, like Harvard. Should this not be left to the market to allocate these positions? The highest bidder gets in? If not, why not? If not, isn't this an admission that free markets may not always be the best means of allocation?
Here's another: selling organs. There is a case to be made that people should be able to sell a kidney. OK, not sure I agree, but I admit that disallowing this is possibly nanny-state meddling. So, for the sake of argument. let's say that we should allow the sale of organs.
Now, kidneys are certainly a scarce resource. So, rather than give someone a set fee for their kidney ($100k + medical expenses, let's say), why not let the donor sell it in an open auction? Like on eBay. Except maybe a site dedicated to organ sales, called, oh, Organs-r-Us?
Is this OK? If the donor can sell it, why not get what s/he can for it? Isn't that efficient?  How is buying a kidney on the market different from selling it for gain? And if you're going to gain, why not let the market set the price?
If markets are efficient, why would this be wrong? Better yet, how can it be wrong?
Discuss.