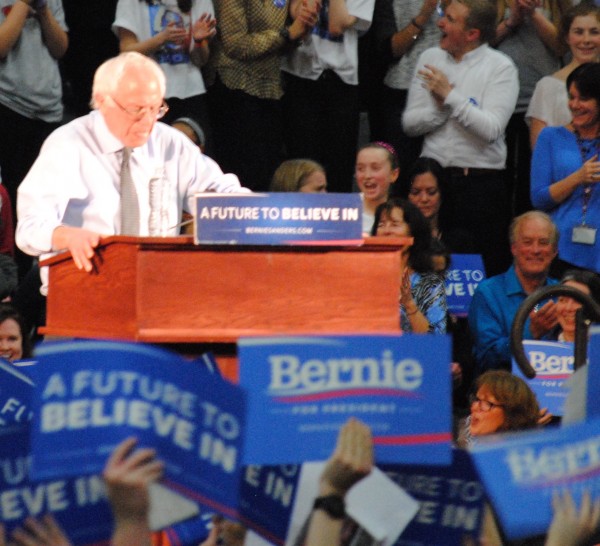 The media blackout on U.S. Senator Bernie Sanders is real, and it's happening with our home state newspaper. Please read further for the gruesome details.
On Saturday, March 5, 2016, Bernie Sanders defeated Hillary Clinton in Democratic caucuses by voting margins of 35% in Kansas and 14% in Nebraska. He also lost by a margin of 48% in the Louisiana primary.
In the Providence Sunday Journal, there is not ONE headline mentioning any of these facts nor one article dedicated to the Democratic presidential race. A review of today's "A" section reveals the following articles related to the 2016 presidential race:
Page A1 (above the fold): "Cruz gains ground – Beats Trump handily in Kansas, Maine"
Page A1 (below the fold): "Trump taps into fears of changing America – A champion to the disgruntled white working class, a 'monster' to the GOP elite"
Page A7: "Trump primary win roils Mass. GOP – But Democrats have left their party, too, to back the maverick Republican"
Page A8: "Clinton backers pursue 'gender gap'" – an article that discusses the gender gap in Trump's supporters and how a Trump/Clinton general election could feature the largest gender gap ever in a presidential election, again pushing the narrative that Trump and Clinton will be the nominees.
Page A9: "GOP points to Obama tenure as cause of party's schism" with the featured quote "There would be no Donald Trump without Barack Obama." – Sen. Lindsey Graham, R-S.C.
Page A9: "5 states will shape 2016 race on weekend" – it mentions that "both parties had contests in Kansas and Louisiana … and Democrats in Nebraska also vote" but made no mention of the results. In fact, the article also mentions that these states "possess the power to make Hillary Clinton and Donald Trump closer to unstoppable." The bias here is frightening, and this is from an AP article. The article also gives the "delegate count" for the Democrats without noting that the count includes as of yet unofficial counts of superdelegates, another misleading tactic.
And in the "Commentary" section…
Page A13: "Clinton backers split on Trump strategy" – you guessed it, an op-ed on how Hillary should take on Trump in the general election.
Page A13: "Republican 'takers' take down the establishment" – a GOP-focused op-ed
Page A14: "Romney's warning" – an editorial from the Providence Journal Editorial Board, again focused on the GOP and coming out against Trump.
Page A14: "Letters to the Editor" – even the ones included here are anti-abortion, about Ben Carson, and about John Kasich.
To top it all off, on the Providence Journal's Facebook page, they posted, on March 6 at 9:10 am, an AP article whose headline insinuates that both Cruz and Sanders' wins yesterday were meaningless.
What is going on here?
I will be calling the Providence Journal to complain about the lack of coverage of the Democratic nomination process. I will ask two questions:
Why were the Democratic results not given any consideration?

Will the Journal commit to giving equal consideration to the Democratic and Republican races, and give equal consideration to the only two Democrats in the race?
I will also email David J. Butler, the Executive Editor & Senior VP of News for The Providence Journal directly as his email is listed on page A2: dbutler@providencejournal.com.

As I do not expect to get satisfactory answers to my questions, I am left to do what you must always do when something doesn't pass the sniff test: follow the money.
The Providence Journal is "a subsidiary of GateHouse Media, Inc." according to page A2. According to Wikipedia, GateHouse Media (which went through a planned bankruptcy and is now part of the holding company New Media Investment Group Inc) is owned by Fortress Investment Group. Also according to Wikipedia, Fortress "was founded as a private equity firm in 1998 by Wesley R. Edens, a former partner at BlackRock Financial Management, Inc.; Rob Kauffman (businessman), a managing director of UBS; and Randal A. Nardone, also a managing director of UBS. Fortress quickly expanded into hedge funds, real estate-related investments and debt securities, run by Michael Novogratz and Pete Briger, both former partners at Goldman Sachs."
Big surprise.
Please, contact the Journal and put pressure on them to do right by the people it serves and give equal consideration to the presidential races and publish articles and op-eds from all points of view, not just those that match their owners' views.
Please call the Journal. Please email. Please share this post. Please do anything so that the corrupt influence of "big media" does not infiltrate the biggest paper in our little state.
(Editor's note: This was originally a Facebook post)
The Bernie blackout is real, and it's happening at the Providence Journal

,