Governor Gina Raimondo's office issued a press release with this title: "State, Congressional Leaders Hail 6th Consecutive Record Breaking Year for Auto Imports at Quonset's Port of Davisville." This was the reason for today's celebration at North Atlantic Distribution, Inc. (NORAD) attended at Quonset by the governor and our congressional delegation.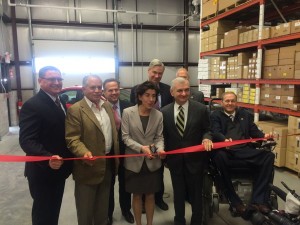 As part of the "FANG needs YOU: To protest Governor Raimondo to confront Governor Raimondo" campaign, I went to the NORAD event to confront our governor about her support for fossil fuels.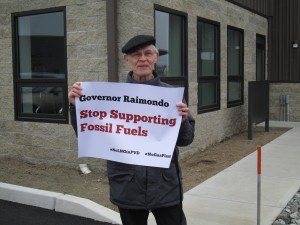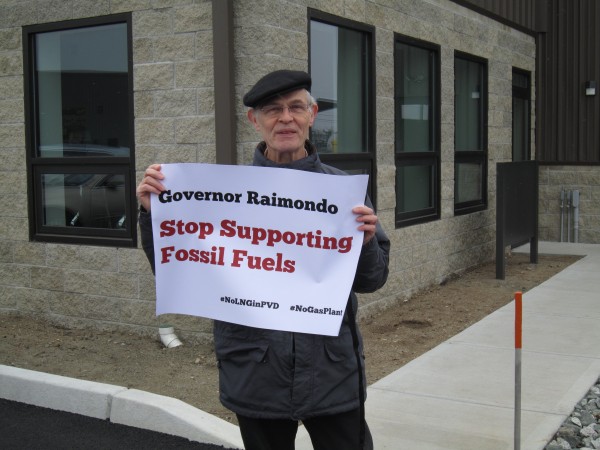 When the governor passed, I asked her about the cost of the proposed gigawatt, fossil-fuel fired plant in Burrillville, aka the Clear River en Energy Center.  Holding up my sign, I said: "Nice jobs program, Governor, $2.3 million per job.  How do you justify that?"  Even from within six feet, she did nor see nor hear a thing!
We seem to have a trend here, as observed by Lorraine Savard, who staged a respectful bird-dogging presence at the Cherry Blossom event at the State House earlier the same day. Referring to Governor Raimondo, Lorraine observed: "She is either ignoring me or she is afraid to look me in the eye."
You'd expect that Governor Raimondo has friends who would be quite able to invest the $2.3 million for a comfortable early retirement of  the 300 workers who might benefit from the construction without creating a sacrifice zone.  But I'm loosing my thread.
I had the pleasure to exchange a couple of words with our senators and representatives. When I asked Congressman Cicilline if he was planning to join us in opposing the power plant, he replied that Burrillville was not his district. True enough, but not all that gutsy.  Fortunately, he agreed with me when I replied that it was not my district either, but my world.
The NORAD celebration made twitter buzz; @QuonsetRI:
@jimlangevin: I never get tired of coming down to @QuonsetRI for these great announcements
One of Representative Langevin's staff told me, when I asked his boss about Burrillville: "This is a different event, Peter."  I have to sleep on that one.
Unfortunately, Mike Miranda, private owner of NORAD, did get tired with me and my off-topic message.  He asked me to leave the event, which he referred to as private.  The press was there and my impression was that the public was invited, but I left.  Do you blame me when I wonder how much state and federal money is spent on shuttling our leadership to and from these "private" events?
One final tweet from @QuonsetRI:
Mike Miranda, CEO & Pres. of NORAD: We're likely only port in country w/ 7 diffrnt manufacturers snding cars here
Undoubtedly, what you see in the picture are all electric cars that soon will run on electric power generated by Invenergy's fracked-gas power plant in Burrillville.   We call those "zero-emission" emission vehicles  and that's how we implement the Paris Accord and the #CleanPowerPlan.  Unfortunately, not only here in Rhode Island.