The alewife are always the first to know it's spring in Rhode Island.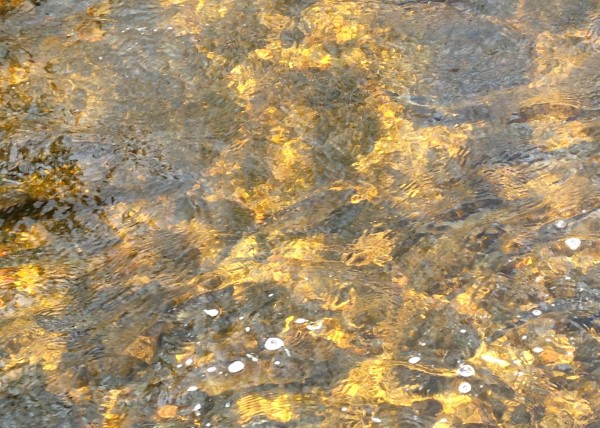 Better known as river herring – or, as the old timers call them, buckies – these small and once-abundant anadromous fish spend their summers, autumns and winters in the Atlantic Ocean and as soon as the weather shifts to warm, they swim into our fresh water streams to mate and hatch their young.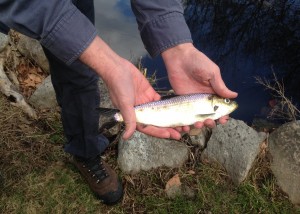 They are silvery, with purplish backs and are only about six inches long. At first they can be tricky to spot in the water. But once your eye picks them up, it quickly becomes evident that a river is flush with them, swimming against a sometimes swift current to get to their spawning grounds.
They can be found all over coastal Rhode Island this time of year – Nonquit Pond in Tiverton, Buckeye Brook in downtown Apponaug and even the Woonasquatucket River in Providence.
By far the biggest and best-known buckie run has always been on the Mattatuxet River, said Department of Environmental Management biologist Phil Edwards. On Sunday, the caretakers of Gilbert Stuart's birthplace, a colonial-era homestead 5 five miles upstream from Narragansett Beach, noticed they were back.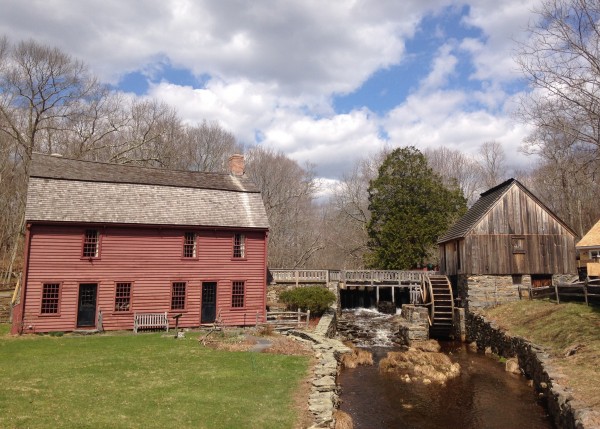 For the next several weeks, thousands of river herring will navigate a fish ladder that circumvents the waterfall and swim into Carr Pond to hatch their young. The adults will head back out to sea in May and the next generation will follow when the weather cools down in September.
The buckie runs were once the stuff of legend in Rhode Island. The precolonial Narragansett Indians harvested them for fertilizer and up until the 1950's hundreds of metric tons were caught annually for bait or for early season fish fries.
As late as the 1980's and 1990's kids and adults could collect buckets of buckies with a net. Even in the early years of this century, the tenants at the Shady Lea Mill, less than a mile and a half upstream of Gilbert Stuart had access to all the herring they could eat.
But then the population of river herring in Rhode Island pretty much dried up. The Gilbert Stuart run went from 290,000 in 2000 to just 17,000 in 2004 – a 95 percent reduction. So far this year I haven't seen one herring at the Shady Lea Mill. The National Marine Fisheries Service listed them as a "species of concern" and imposed a moratorium on their catch.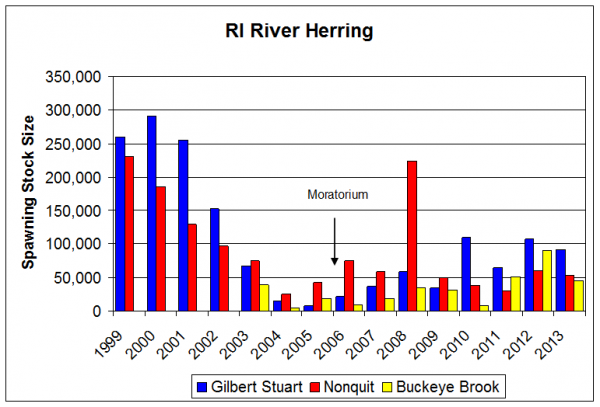 "We still don't have a good handle on the cause, and it is probably related to a number of things including water quality, lack of spawning habitat, climate change, predation, and by-catch," said Rachel Calabro of Save The Bay. She's written about the river herring here and here.
The National Oceanic and Atmospheric Administration says the overall population began to drop off in the late 1960's when "distant-water fleets began fishing for river herring off the Mid-Atlantic coast." In Rhode Island, the decline quickened in the years after a Russian off-loader boat parked off Jamestown and bought mackerel and herring from local fishing boats.
Glen Goodwin, captains the trawler the Persistence out of Davisville and sells his catch to Sea Freeze, a Quonset-based seafood freezing company that sells seafood all over the world. He fishes for herring, but not the anadromous kind that spawn in rivers. He and other local fishermen catch sea herring, a different species of fish altogether.
"Sea herring has the largest quota on the coast that actually realizes its quota," he told me.
The problem is the two kinds of herring congregate together, so fisherman have to be much more meticulous about which species they pull up in their nets. "River herring are taken as bycatch in other ocean fisheries in various gear types including gillnets, bottom otter trawls, and menhaden purse seines," according to NOAA.
Goodwin says fishing boats have sensors that can identify a species before dragging the net, and the two kinds of herring don't mix together as much during the day as they do at night. "It's not 100 percent, but in the last ten years we've put a lot more effort into avoiding them," he said.
"I realize that they try very hard to not catch river herring," Calabro said. "There may be ways to avoid them better, like fishing farther out, because the river fish tend to stay in close waters, but it is a challenge."