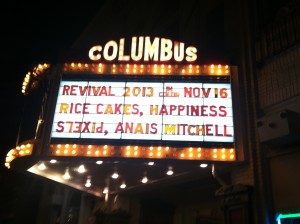 For music Saturday night, there was no other place to be than the Columbus Theatre on Broadway in Providence from Revival! 2013, which featured a full cohort of 15 hometown heroes and visiting acts across three locations; including a barbershop. I didn't get beyond the main stage, so this review will only encompass the four headliners.
Leading off the night as "the first note of our first act of our second year," (in Columbus' Cooperative member Bryan Minto's words) were Roz and the Rice Cakes. I have had the fortune of being one of Roz Raskin's many classmates, and I will say this: there's no better pleasure than seeing someone you know opening a night like this. Drummer Casey Belisle and bassist Justin Foster form a tight rhythm section that backs and complements Raskin's excellent keyboards and vocals.
Pinning down what exactly the music the Rice Cakes play is difficult, but the usual selection could be described as almost trance-folk, as the driving rhythm pushes along underneath Raskin's distorted keys and faded vocals. Occasionally, the instruments drowned out Raskin's words, making the lyrics difficult to describe. But despite this difficulty, the Rice Cakes had dancers on the floor in a relatively short period of time, bouncing along to the dance numbers. The craftsmanship of the Rice Cakes is exemplified in their closer; "Yellow Fields" which includes a bit at the beginning that almost feels as though the song is about to fall apart. The recorded version is varies from foot stomper to tension-building staccatos. Here it was transformed into a barn-burner.
After, Anais Mitchell took the stage with just her guitar, opening with two songs from her folk opera about Orpheus set in hard economic times. Both "Wedding Song" and "Why We Build the Wall" feature other vocalists on the album versions, but Mitchell managed to transform them for a single person; though "Wedding Song" showed its roots far more. As Mitchell noted, she's only just given birth to a daughter three months ago, but that added to her stage presence, especially as her newborn daughter cried as Mitchell performed. Mitchell's delivery is crystal-clear and her finger-picking is an excellent complement. That was notable on her performance of Child Ballad 100 "Willie O Winsbury" a traditional Scottish ballad over 200 years old. Mitchell's rendition of it was perfect.
Mitchell's ability is a songwriter might best be demonstrated in "Young Man in America," the title track from her second album, which manages to speak directly from within American masculinity's hopes and insecurities. It's a pretty impressive feat, and that Mitchell pulled it off while enrapturing the crowd was pretty special to see.
The Low Anthem might best be described as the shining light of the Providence music scene, and here they showed their skill; "This Goddamn House" required that lead singer Ben Knox Miller play a saw, producing wailing trills. The tempo for most of the Anthem's set was slower and relaxed, ignoring the more danceable numbers in their repertoire like "The Horizon is a Beltway" or "Boeing 737". The band's showmanship was on display in songs like "When I'm Dreaming Drunk," also featuring vocal talents of Columbus' Cooperative's Minto. The most rousing of the band's regular set included a whirring drone videotaping the crowd from above. While no doubt the recording will be amazing, it abruptly ended when the drone operator accidentally steered it into a backdrop, putting the drone out of commission. One can only hope that similar fates befall other surveillance drones.
When joined by the 'Mericans' Chris Daltry and Michael Moore, the Low Anthem crackled. On the first number, Moore's lead guitar was excellent; well-played without being overpowering, and the Anthem was energized and on point. The second number was lead by drummer Jeff Prystowsky, a raucous tribute to former Cardinal's shortstop Ozzie Smith; driven by Prystowsky's thumping drums, it was complete with Daltry and Miller tearing it up on guitar.
The closing act, The Felice Brothers, brought a no-holds barred New York countryfied rock set, starting slow. But by their second song they'd brought dancers back to the front of the stage. The next song, "Run Chicken Run" was an accordion-driven dancer that had the audience dancing in the aisles, and on the next song virtually the entirety of the crowd was on their feet, where they remained for the rest of the night. Brothers Ian and James Felice center the band, with Ian's ragged vocals providing much of the character of the band's songs. But James Felice is showcased not only for his keys and accordion, but also for his crooning voice, with "Whiskey in My Whiskey" being the best example. Fiddler Greg Farley is also a beautiful complement to band, deployed exactly where he'll have the most effect. The Felice Brothers seem relatively tireless, capable of knocking out songs reminiscent of back country hoedowns or shouting out punkish numbers with bass solos. They're a pleasure to behold.
Revival! 2013 was a great success, marking a year since the Columbus Theatre returned to operation under its owner Jon Berberian and the Columbus Cooperative. Future shows can be found on their website.