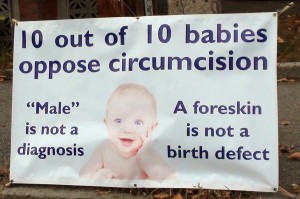 In the United States, overall circumcision rates are dropping, from 64.5% in 1979 to 58.3% in 2010. However, here in the Northeast, the rate has been more or less constant, and the entire drop in national circumcision rates is being driven by a dramatic decrease in the practice in the western states.
Hope Reeves, in her New York Times piece, suggests many reasons for the decrease. For instance, when insurance companies and Medicare stopped paying for the procedure, suddenly the procedure seemed more cosmetic than medically necessary to many. It was also suggested that Asian and Hispanic immigrants, who do not routinely engage in the practice, might account for the decline. Then there was a failed attempt in San Francisco to outlaw the practice by ballot, which raised awareness and allowed many to openly question the practice for the first time.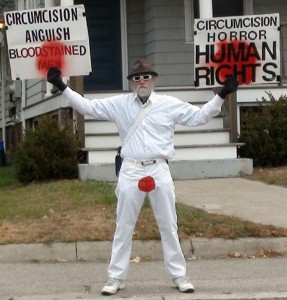 Douglas Diekema, "a member of the American Academy of Pediatrics' task force on circumcision and a professor of pediatrics at Seattle Children's Hospital" agrees with some of the above, but also thinks that "West Coast residents tend to be more progressive."
So is circumcision a progressive issue? If it is, it is certainly not one many progressives seem interested in pursuing.
For one thing, the issue of circumcision butts up against issues of religious freedom and tolerance. The practice is mandated in the religious traditions of both Judaism and Islam, and efforts to restrict, curtail or outlaw the practice often bring charges of religious intolerance or antisemitism. As a Humanist and a parent, my own feeling is that we should not be surgically altering the genitalia of our children without their consent, and that consent can only be given when the child is of legal age. This view is of course no comfort to those who believe that infant circumcision is mandated by God.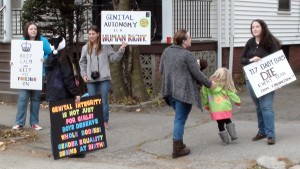 On Sunday seven members of Intact Rhode Island, teamed up with the Bloodstained Men, to protest the practice of circumcision. They cleverly refer to themselves as "intactivists." The Bloodstained Men draw their public demonstration theater tactics from the grand guignol tradition, wearing one-piece white jumpsuits with large blood stains on their crotches. I spent some time talking to Brother K, the leader of the group, and Jonathan Friedman who was in town to help with the protest.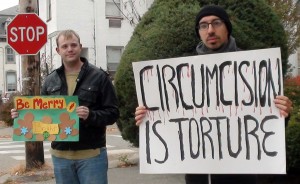 Brother K did not hold back his criticism of circumcision, and compared it to female genital mutilation as practiced in many Islamic and sub-saharan cultures. "I have long believed that what we're doing to babies in the hospitals is in fact a religious surgery. We're essentially transmitting a biblical command and an ancient religious command that even predates the Bible. What doctors are doing in the hospital is they are inflicting the mark of an ancient God on our babies."
In response to a question about his own beliefs regarding religion, Brother K said, "I'm spiritual. I don't follow any particular religion. I think even Judaism has some beautiful ideas. So many of our friends are in fact Jewish intactivists, which is why it breaks my heart that so many other of our Jewish friends feel that they have to inflict this ancient blood sacrifice, this sacrifice of flesh, on their children. Judaism at it's core is a very beautiful, spiritual religion, but they've kept this horrible custom."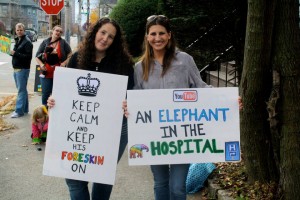 This certainly did not sound like antisemitism. It sounded more like a pragmatic stance against an ancient and damaging custom. I spoke to another protester, Jonathan Friedman, and asked him how his Orthodox Jewish family feels about his intactivism. He was thoughtful for a moment, before saying, "Well, I don't talk to my family. It's not just the circumcision, it's other things as well."
In an article from the Rationalists Association, Toby Lichtig, a Jew, writes of his family reacting with outrage over the very idea that he might not circumcise his "hypothetical future son."  In Britain, writes Lichtig, "circumcisions are largely confined to the religious establishment" and often, the task winds up being performed by "inexperienced family members."  Lichtig continues:
A shocking 2010 report in The Journal of Public Health found that, in a sample of 29 Muslim children circumcised at an Islamic school in Oxford, 45 per cent ended up developing medical problems as a direct result of the surgery.
Brother K tells me, "I do recall that some of the European Humanists are actively working on this issue, to stop it. I've long wrung my hands over why American Humanists aren't." To be honest, I hear about the issue in Humanist circles here and there, but until I spoke to the protesters Sunday morning, I had never spoken with people who made this issue a central priority.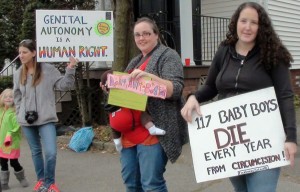 I got to talking with Michelle Merritt, one of the co-directors of Intact Rhode Island. I confess that it feels odd to talk about the nature of our son's penises in public, but I weathered through.  She circumcised her first son but after researching the procedure, realized that she made a mistake. Her second son remains uncircumcised, and she has decided to do what she can to prevent this from happening to other children. Her group is small, but dedicated, and committed to "peaceful parenting." She gave me a card about "Brit Shalom" described as "a non-cutting naming ceremony for newborn Jewish boys." The ceremony is designing to replace ritual circumcision for Jews.
If we were talking about female circumcision, the Providence demonstration wouldn't be necessary, as the practice would be outlawed immediately upon discovery. But there is a big difference, in perspective if not in fact, between an alien custom brought to these shores by immigrants, and a custom we've come to accept as common practice. What parent or grandparent wants to face the uncomfortable accusation that they may have permanently damaged their child's genitalia for no reason? Critiques of the practice draw immediate, visceral and not always rational reactions.
Brother K, demonstrating on the streets of Providence with Intact Rhode Island, has heard it all, "Americans resist this with tooth and claw. Some people are outraged that we would even be out on the street demonstrating against this. They say things like 'Don't you have anything better to do?' and 'Get a life!' as if what we're doing to our babies is of no significance, has no meaning."
Unfortunately, that's exactly what makes the anti-circumcision fight so hard. Circumcision has a deep cultural and religious meaning, and asking people to give up on that practice will be a long, uphill battle. Intact Rhode Island, made up of mostly young, idealistic mothers, will need all the help they can get.
Is circumcision a progressive issue?

,