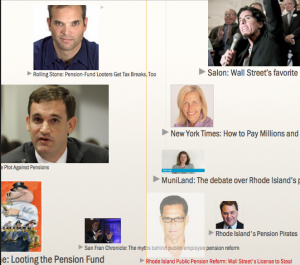 Raimondomania has turned into Raimondomageddon.
The quarterback of pension politics was revered by the right in 2012, winning praise from the Manhattan Institute, ALEC and the Wall Street Journal among others. But 2013 has been a political lynching from the left – with Ted Siedle, Matt Taibbi, David Sirota and more all calling her signature accomplishment a wealth transfer to Wall Street.
To help keep track of all the out-of-town media attention, I made this timeline. It's still a work in progress, so let me know if I've omitted any in the comments below and I'll update as warranted. The tool on the right controls the view of the timeline.