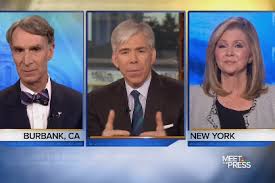 It all started when I watched a rare show of interest on global warming this weekend on all the talk shows. HuffPo ran this article with a meme with the quote: 
Sorry, Congresswoman, I Just Have To Interrupt You
Host David Gregory had a bit of a hard time staying out of the climate change debate between scientist Bill Nye and Rep. Marsha Blackburn (R-Tenn.) on "Meet the Press" Sunday. Though Gregory said repeatedly there is no doubt.
I posted this along with this comment: "This video would blow Gregory's mind." ‪
This started an exchange with an old friend of mine who is a conservative "not usually into politics." However, what transpired isn't even conservative, it is reactionary, and he is an intelligent guy. What follows is what used to be a discussion and now is conversational gridlock. We can't blame everything on the political system if it is just a reflection of us. However the points he raises reflexively are instructional.
He first wrote "Well, it IS the DAVID GREGORY show, after all so why shouldn't he interrupt a guest who is in the middle of making a point?
" He said referring to the HuffPo meme, and what Nye called Blackburn's filibuster. to which I replied:
"That isn't the criticism off Gregory, he is a journalist and it is his show. If you read the HufPo blog, what is remarkable is that he even broached the subject confidently after a decade of letting an opinion held by less than 10% of climate scientists get 90% of the air time without a peep of criticism. I like the old style television interviewers that hold guests accountable to the facts as opposed pandering to the privileged Beltway brats."
Conservative: "I get that, but I am more with the 10%. Climate does change, that I agree with."
Me: "So you admit the odds are you are wrong? The issue is what we can do to address the rapid advance of the climate change, Climate disruption. Are you confusing climate with weather?"
C: "It's too political, I frankly think there is too much behind money the scenes in the anti-carbon faction [of course there already is tons of money in oil but that system is established]."
Me: "Established oil interest are OK but the pittance that environmentalists can raise to advocate on behalf off people and nature is bad? There is too much money in politics for sure, that is another thing I would like to see change. This is covered in the video and blog too."
C: "But tech just isn't there yet to do it right. I don't want an electric car [that most likely gets its "clean" power from coal anyway] that will only get me 40 or 50 miles down the road and then take 12 hours to charge a battery that is more toxic than Hydraulic Fracturing fluid. I would rather use a bike or a horse. Sorry I am a mean spirited ignorant bastard."
Me: "Well I like the bike and the horse. I am glad you see the risk of Fracking (which is happening under your feet). But you have been bamboozled on global warming my friend. There are a lot of solutions that are scalable if we were really trying- which we aren't because of the power of fossil fuel money and the quarterly profit mentality. The Fossil Fuel Companies have funded the disinformation programs. The US is the only country in the world that doesn't understand that global warming is real and man made, partly because the media gives equal time to the vast minority doubters. Just watch a BBC broadcast on their month long flood. It's a simple formula really- the more green house gasses the more the planet is warmed. By the way, I wrote less than 10%, the comparative studies have found as many as 97% of climate scientists agree when avoiding the word "cause" which has a high threshold and using words like 'primary drivers.'
Denier disinformation campaigns have done their best to use the skepticism of science against itself to distort the findings for political purposes. Most of the surface earth is water, so water temperature and ice pack conditions are a better measures than surface temperature. If you think changes in transportation are inconvenient, it's nothing compared to the costs of the havoc global warming will cause. Even if we stopped burning fossil fuels today, there is enough CO2 in the air to raise the temperature another degree.
As to your nature, maybe that's what you say you have become but I am not so sure, but thanks for summing up this mentality. Maybe you are having a cranky life day but there is more to you. Why anyone would buy into the mean, arrogant lie that that is our nature is beyond me. Any time there is a disaster most people turn out to be pretty helpful."
C: "So why be an alarmist?"
Me: "What is happening is cause for alarm so this is not alarmism- but the point isn't to panic but to address the problems. While you are right that it is the politics of who will benefit form the change economically and politically that has the works glued up, but it doesn't change the physics of nature. The stupid thing is this presents the opportunity for a whole new technological advance that is good for economics and provide us with a cleaner and healthier place to live. Of coarse the rub is it challenges the establishment of both parties which is rooted in wars for fossil fuels and geopolitical corporate advantage.
This problem- that putting all the crap into the air in industrialism was spoiling the environment – has been suspected since the turn of the century, and the health problems were well manifested early on. Unfortunately the conservatives after the '70's have opposed and dismantled the Clean Air Act and Clean Water Act so politically it is hard for them to change course.
So moving forward requires a change in the structure of power and neither party wants that. (This is covered in the Chomsky video.)"
C: "If you really want to do something talk to the Chinese."
Me: "Now on the Chinese, they are a mixed bag actually. Sure their filthy coal plants aren't helping, but America isn't leading either (watch the video for more on this.) The Chinese are outpacing us on solar & wind development and on more efficient mass transit. Also they have made such a pigsty of their rivers and air so quickly that the Chinese people are rising up. Obama isn't helping with his "all of the above" energy policy which helps sell coal to them and, if he approves the Key Stone Pipeline to refine fitly tar sands, will be helping to refine oil for them. If the US decided to become the world leader in a new sustainable energy economy we would put China to shame, but now they can just say they are doing it to be competitive (just like) with the US."
C: "It's a religion and I am an agnostic."
Me: "In the group I work with on the state level here there are geologists, physicists, engineers, biologists and climate scientists- the rate of erosion is massive in RI and the soil is inundated with water. These are facts. Some are politically conservative, some are liberal, but no one doubts that this is a rapidly advancing problem spurred on by burning fossil fuels. Some of these people advise REIMA & FEMA on how to prepare to deal this this. It is an ongoing, very real problem, and it is nationwide in it's scope- global actually. If there is any doubt they want to be prepared and err on the safe side.These are a lot of brass tacks type and they are not "Moonies in a cult." Sure some politicians want to cut the best deal for their funders (Campaign donors) and not for you and me, let alone defenseless nature. But some want to help.
However, politics aside, nature is not going to negotiate. It's not being idealistic to say that raising the CO2 level to 400 ppm with take 80 years to absorb and will result in 1-2 degrees in have temp rise and sea level rise- it is as close to fact as we have. The truth is that these are the optimistic projections, according to the newest UN IPCC reports, and they have a politically sensitive situation in thatchy have to deal with the powers that be, namely the US who has blown up the UN Climate Change talks repeatedly and refused to commit to global carbon reduction standards.
Three years ago I heard the NASA scientist James Hansen speak. He is the expert who testified in front of congress when GHW Bush was president and conservatives were still rational. He described the physics of the biosphere and then presented several examples of the extreme weather patterns that could occur once "feedback loops" started. These are cycles that create exponential growth in the rate of change. They sounded a lot like what was happening and I asked him at dinner why he didn't say that this was what it looked like was happening. He paused and simply said " I have grandchildren." I knew by the look in his eyes that this was very serious.
C: "Okay but I just cannot make it my cause célèbre."
Me: "You don't need to make it your cause. Just be aware of the realities and do what you can."
___________________
Reflecting on this is is interesting that we seem to agree that there is too much money in politics though he seems to be willing to let it go for the established fossil fuel interests. This is reactionary and suggests that a rule by money, what Chomsky calls in the video a Plutocracy, is OK as long as they are the established Aristocratic interests. However, while it doesn't square with his complaint that there is too much money in politics, It does explain why the RNC is challenging the FEC in the McCutcheon case, and inadvertently makes Chomsky's point that conservatives like him today are irrational.It is interesting that when it comes to Fracking which is happening where he lives he can see the risks- here is another place we agree so the discussion revealed common ground here.
Also, this reveals for someone supposedly not political he was pretty able to rattle off the usual denier foils. But he never read the blog posts or watched the video, so he had already made up his mind, but seemed to back off in the end when there were too many facts to refute. No I am sure that he has returned to his Fox News echo chamber and has more stock complaints but I know it got him thinking.
Have you had conversations like this? 

Thanks for the honest exchange and considering my thoughts.
The post-rational conversation on climate change

,