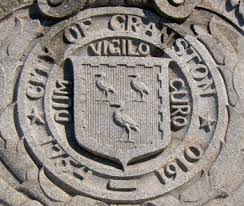 Today marks the announcement that Cranston residents are filing suit because their voting rights are being violated.  Cranston!  You might be wondering: "Where do these lawsuits come from?"  It turns out, good ol' RIFuture played a part.
About eight years ago I saw Prison Policy Initiative (PPI) founder Peter Wagner give a presentation on "Prison Based Gerrymandering" in New York State.  He illustrated how taking thousands of men from, typically, New York City and sending them to live in cages Upstate shifted political power to those Upstate areas.  They did this by counting the prisoners as "residents" who are then represented by politicians at the same rate as the free residents.  Naturally, the politicians do not cater to the interests of the prison residents; in fact, the politicians interest is in getting more prisoners, to inflate their power.  A tiny little district with a big warehouse full of cages will get the same vote in Albany as a place with twice as many people living in it.
About five years ago I did an analysis of Rhode Island, posted it on RIFuture (archive unavailable), and Peter Wagner took note.  It turns out that Cranston, with its consolidated Adult Correctional Institutions, is one of the most impacted areas of the country.  A small coalition formed on this esoteric elections issue, including Direct Action for Rights & Equality, PPI, ACLU, and Common Cause.  Senator Harold Metts sponsored a bill to make this change, targeting the 2010 Census, but the bill was not passed before redistricting time.
"The Residence of Those in Government Custody Act," introduced as S 2286 by Senators Metts, Crowley, Pichardo, and Jabour on February 4, 2014, and as H 7263 by Representatives Williams, Tanzi, Slater, Diaz, and Palangio, on January 30, 2014.
Now the issue has gotten down to the personal level, as residents of Cranston who don't have the blessing of living next to the prison are challenging why they have less political power.  For example, six people who live near the prison will fight for their politician's ear for every 10 people who live on the other side of town.  Multiply that out.  There is a reason that districts should be of similar population size, and its about ten people's voices being the equivalent of ten people's voices when making large decisions.  Unless those people locked up in the ACI start getting their voice in the discussion, they are being used to puff up the district.
Some states have already passed laws that eliminate this problem.  Of course, if Rhode Island did so, the lawsuit would be moot.
Cranston residents suing because prison 'residents' dilute political power

,