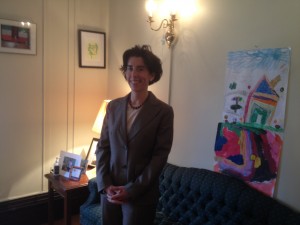 I know this past week end Rhode Islanders were busy saying good bye to summer. Some shut down their beach houses for the last time while others prepare their children for pre-K, elementary and high school and still others made the trip to return their teens to college. So it is quite understandable that many missed this small paragraph about Gina Raimondo on Page A11 of Sunday's Projo:
"one of her goals will be to seek out like minded Democrats such as Philadelphia Mayor Michael Nutter to swap ideas –how best to tackle pension overhaul for example."

Let me explain to you who Michael Nutter is. He is the mayor of Philadelphia, a city whose state has an abundance of untested charters. Nutter recently said:
"He saw no difference between public, private and religious schools and thinks they should all be funded ."
This is the state where its Pennsylvania Governor Corbett and the Republican controlled legislature acted as fast as they could to slash $1 billion from public schools, install voucher-like tax credit programs, and privatize struggling districts, handing their schools over to corporations run by their largest campaign donors.
So why would Gina Raimondo want to associate herself with Pennsylvania's ways unless she too, wants to follow the path of vouchers and privatization like PA does.
She may wish to join the municipal pension reform crowd as her outward agenda but then again she may be looking at possible future education changes since she does want to run for 2014 governor.
The facts show that Deborah Delisle, USDE Assistant Secretary noted that 30 states applied for NCLB waivers to gain some flexibility in dealing with its stringent requirements. However, Pennsylvania was not one of them.
Again I reiterate, I find it very curious that Raimondo wants to speak with Philly's mayor on municipal pensions and who knows what other topics can crop up in discussion….
There was a White House Conference where many in the room expressed serious frustration with Governor Corbett's apparent preference to have schools labeled failures and refusal to seek relief through the waiver program. The PA Department of Education declined to send anyone to this White House forum, but Students First PA was there.(Michelle Rhee, founded Students First in Florida-Rhee was DC school leader where rampant high stakes testing cheating took place under her so-called leadership ) This group funnels superPAC millions to the campaigns of lawmakers who promise to deliver vouchers and give away public funds to private and religious schools through tax credit schemes.
So again, I wonder why one of Gina Raimondo's convention goals is to associate with Philly Mayor Nutter.
In this blog from Dr Diane Ravitch, historian and former Asst Sec of Education, she says this:
Philly Mayor: No Difference Among Public, Private, Religious Schools?
August 28, 2012
The mayor of Philadelphia says there is no difference among different kinds of schools, be they public, private, religious, charter, whatever.
He sees no special responsibility to support public education.
In a sense it is understandable since the people of Philadelphia lost control of their schools to the state years ago.
And the state imposed a massive privatization scheme, which failed.
And now the state control board for the public schools wants to try privatization again.
Parent activist Helen Gym explains to Mayor Michael Nutter why public education matters to the people of Philadelphia.
Investigative reporter Daniel Denvir followed the money trail and uncovered a reason for Mayor Nutter's indifference to the powerless people of Philadelphia: the big money in the city and suburbs is betting on privatization. The campaign to privatize the schools of Philadelphia has raised $50 million, while the public schools are neglected.
PS  You might want to read this:
http://online.wsj.com/article/SB10000872396390444301704577629342468215790.html?mod=WSJ_Opinion_LEADTop
You see, I believe that who a person associates with, adds immeasurably to who they really are…Their persona, temperament,  belief system, views, character, personality and behavior create their image. It is this image we need to explore  to determine if we really want these people making important decisions for us if and when they decide to run for political office.
I will not vote for anyone who says one thing and does another. And I am sure the readers of this blog feel the same way. This is why we must be vigilant to the words and actions of potential candidates. If they turn out to be hypocrites, then you know they never had your personal interests in mind but their own agendas.