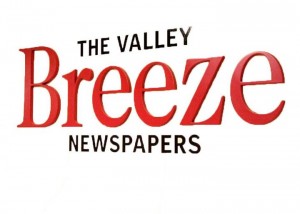 It's hard enough to run against an incumbent but Gus Uht, a progressive running to represent Cumberland in the state legislature against conservative Karen MacBeth, feels like he's running against the local newspaper too.
His campaign says the Valley Breeze has not only displayed an editorial bias against him, but has also not run advertisements in the paper and online that he paid for.
"I would like to think it's not deliberate," said Robin Dionne, who is managing Uht's campaign for him. "If it were an isolated incident I would think it was an oversight."
She said Uht paid a premium price for his ad to appear on page 2 of the paper three times but it only appeared there once. Uht's campaign paid 25 percent more for the ad so that it would be on page 2 of the Valley Breeze but instead was on page 18. Instead, his opponent's ad was on page 2. There were also instances of his ad not appearing online, which was part of what they paid for.
"It was an oversight by the person involved," said Valley Breeze publisher Tom Ward. He said Uht's campaign was refunded money for the oversight.
Dionne said the campaign would have preferred the ad to the refund.
She also said the paper has shown an editorial bias towards MacBeth.
"I would say they definitely aren't acting as an impartial news source," Dionne said. As evidence, she offered this article from August 15, and this one published today.
Today's article describes Uht's campaign as "offering what may be the most unusual of candidate qualifications" while MacBeth is described as "touting a strong record on pro-business votes."
Valley Breeze editor Marcia Green said she did "everything I could" to be fair to both candidates. Publisher Tom Ward said it is the paper's policy to be neutral.
"There are no politics involved," he said. "We do all we can to be as fair as possible. We knock ourselves out to be right down the middle. I'm a conservative guy, but if you think I play it that way with my business, I just don't."
Dionne also said the Valley Breeze has run more press releases from MacBeth than it has from Uht. Earlier today, she said there was no press release online this week from Uht but there was one from MacBeth. Green, the editor, said there was a press release online. Dionne said it was uploaded after the Valley Breeze was contacted by me for this story.
Both Uht and MacBeth are squaring off in the Democrat primary but are vastly different as candidates. Uht is campaigning on a progressive platform of income tax fairness and jobs. MacBeth calls herself a fiscal conservative but she is best known for being one of the most conservative members of the General Assembly when it comes to a woman's right to an abortion. She sponsors the annual bill that would require women to have an ultrasound performed prior to an abortion.
Uht Campaign Complains Valley Breeze Is Biased

,