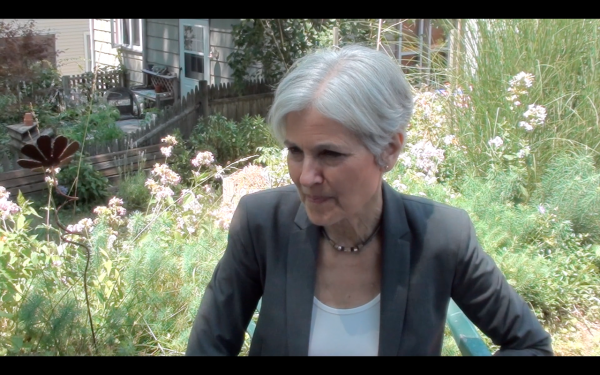 Because I grew up in Rhode Island, am below the age of 30, and am a liberal, a lot of my friends this election season have abandoned following Bernie Sanders into the Democratic Party (however briefly) and instead pledged their support to Jill Stein, the Green Party candidate for President.
This strikes me as poorly thought-out. While I can understand that in Rhode Island, the majority of voters are likely to vote Democratic, and thus many feel that it's not a risk to vote Green (and are likely right) this is a problem of a collective action like voting: we only know the outcome when we know the outcome. Polling can tell us a probability of how our votes will be divided, but often that information is erroneously reported. Everyone works blindly, in a sort of prisoner's dilemma; if enough people vote a certain way, they could throw the election to a person who would would be even worse.
This has been a factor in U.S. Presidential elections for a long time. Starting in 1828, Henry Clay and John Crawford made the results of that election inconclusive, Martin Van Buren could've prevented Lewis Cass from becoming President in 1848, Millard Fillmore likely spoiled the election for John Fremont in 1856, in 1912 William H. Taft spoiled it for Teddy Roosevelt (or possibly vice versa), in 1968 George Wallace arguably did in Hubert Humphrey, just as Ross Perot might've done to George H. W. Bush in 1992, and in 2000 Ralph Nader helped make George W. Bush president.
All of these took place in specific circumstances. 1828 was a breakdown of the dominance of the Democratic-Republican Party, and the emergence of true political parties in the United States. 1848 saw the rise of an explicitly anti-slavery party with a former president at its head, whereas in 1856 the former president was leading a nativist party that sought to ignore the issue of slavery. Taft and Roosevelt were both the sitting and the previous president, striving against one another as the Progressive movement sought to move out from merely being a cross-party group. 1968 was the breakdown of the New Deal coalition and the "party switch" that transferred segregationist white southerners into the Republican Party. And 1992 and 2000 were eras of relative prosperity where the presidency simply wasn't too important.
Majorly, the thing to notice is that except for recently, almost all of these featured establishment politicians making plays for power. Only Perot and Nader are exceptional in lacking political office on that list, and the impact of their parties have been negligible. Clay helped establish the Whigs soon after 1828, Van Buren's Free Soilers joined the Whigs to become the Republican Party within a decade, Fillmore's American Party was already on the decline in 1856 after having achieved control of the U.S. House, but was absorbed into the Republicans. The Progressive movement basically had all three major candidates in support of its goals in 1912. Wallace's pro-segregation supporters have been dog-whistled to for the last fifty years until Donald Trump put down the whistle and starting yelling things at the top of his lungs.
Meanwhile, Perot and Nader's efforts have come to naught. The Reform Party is spent, and 16 years later, the Green Party is as much of a joke as it's ever been. Their efforts for the presidency are not turning points in American political history, but rather quixotic ends to otherwise fine careers.
Now, I've been highly focused on presidential elections, and I think this highlights the issue of third parties. In the way things are structured in most states, third parties simultaneously must contest the highest possible office. This constantly forces them into the position of spoiler for other candidates more likely to win, making voters resistant to casting their ballot for the third party. This Duverger's law in action – a system like the United States', with plurality voting and single-member districts, forces there to be mainly two parties.
What's the current most successful third party in the United States? It's not the Greens or the Libertarian Party. It's the Vermont Progressive Party. The Progressives there have two things going for them: fusion balloting, which allows candidates to run as both a Progressive and a Democrat, and multi-member districts, which means there's a level of proportionality in how many seats a party gets based on its vote in the districts. Also, there are fairly relaxed rules to establish a political party. It's a highly local party that was mainly established to support Bernie Sanders as mayor of Burlington, VT; the party's main power base continues to be located there.
The other major thing the Vermont Progressives have is that they don't need to contest major offices. As a result, they can persist beyond being a personality-driven organization. And let's face it, third parties are mostly vehicles for specific individuals' megalomania.
Take Rhode Island. I have long said that the Moderate Party lacks an identity beyond being the party of Ken Block or Bob Healey. With the former abandoning it, and the latter deceased, it's now got to find someone new to be its standard-bearer for governor. It's forced into this position because RI's ballot access laws require a political party to win more than 5% of the vote for governor or president every four years, depending on when you collected ballots.
This is intentional, and it prevents third parties from spending resources in more easily-winnable races, such as at the school committee level or town council. It means a third party has to exhaust a lot of manpower or cash on a big race it can't win to achieve ballot access every four years, or else face being dissolved. So they lose, they might cost someone else the election, and drive potential supporters away. Meanwhile, they are unable to conduct meaningful candidate recruitment, unable to attract potential candidates because they appear frivolous, and unable to establish any sort of meaningful governing record.
This drives an incentive to simply be some individual's ego trip. And that's exactly what's happening in the Green Party and its nominee Jill Stein.
You might think this is hypocritical to focus on Stein's ego when this is an election of egos. But let's be frank: Stein's ego far outstrips her actual accomplishments. Her highest office to date is Lexington Town Meeting Representative. And yet, she says her aim is to win "at least a plurality" of votes in November (anything more than a plurality would be a majority). Her current Real Clear Politics polling average is 3.8%.
No other presidential candidate with ballot access to a potential majority of electoral votes is this delusional. Donald Trump actually won a major party's nomination, despite his ego making him think lying about his success is the same as "sacrifice." Gary Johnson actually has run a state as a governor – and won reelection. And there's a strong case that Hilary Clinton is as egotistical as anyone, but then again, she's earned it. We can definitely criticize her arrogance, but she actually has been U.S. senator and secretary of state. She actually has had to craft and shepherd policy that effected millions of people's lives. And more importantly, she actually has a political organization that can support and help pass her agenda should she reach the White House. Trump has the latter, and Johnson has done the former, but Stein can't claim either.
No third party will take the presidency this way. The only way so-called third parties have ever managed to do so is by stepping over the bodies of their predecessors. The next major party of the United States won't be from the edges of the political system; it will follow Clay and Van Buren, and Lincoln – it will arise from the heart of the establishment, lead by a figures who were once partisans in some deceased major party.
There are, at least, political movements that understand that change happens through political power, not at its fringes. Say what you like about the Progressive Democrats and the Working Families Party – at least they are attempting to shift the dynamics locally of one of the parties, and with a greater potential for impact than all the Greens put together.
The tension of the American third party

,