On August 9, the Harrisville Fire District in its monthly meeting will discuss how to respond to Invenergy's request for the supply of water for its proposed power plant in Burrillville, the Clear River Energy Center (CREC). For time and place follow this link.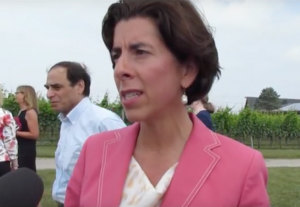 Future water shortages caused by CREC have been a topic of discussion and speculation for many months.  That indeed there is a serious risk is clear from information contained in documents obtained from several Rhode Island departments in response to Fossil Free RI's request made under the Access to Public Records Act.
As a reminder, the following is worth quoting from a previous post based on documents supplied by the RI Department of Health:
According to a presentation at a meeting about CREC attended by several state agencies, 0.18 MGD (million of gallons of water per day) will be left for growth if the power plant is built. June Swallow of the Center for Drinking Water Quality at the Rhode Island Department of Health attended the meeting. Her longhand notes show that Harrisville and Pascoag each are expected to need 0.12 MGD for growth. This suggests a deficit of 0.24 MGD – 0.18 MGD = 0.06 MGD.
Also documents supplied by the RI Department of Environmental Management raise concern. There is, for example, the following email exchange between Alisa Richardson of RIDEM and Ken Burke formerly of the Rhode Island Water Resources Board:
Thanks Alisa,
I think we should talk about having the Town acknowledge that with low flow conditions and high energy demands, that the Town is effectively pledging most (if not all) of its available water to this development. This local decision is theirs to make. Will someone from the Town also be at this meeting?
Thank you,
Kenneth J. Burke, P.E.MBA
General Manager/Treasurer
This email (my emphasis) appears on page 50 of this document.  There is more of interest, but the conclusion is the same; search the document for "Alisa" and "Ken."
Also Stephanie Sloman, a retired environmental engineer who worked for a large electroplating plant in Massachusetts, weighed in. She submitted a thorough and detailed testimony to the Invenergy docket of the Energy Facility Siting Board.
Her conclusion is that, no matter how you look at it, there is not enough water for future growth in Burrillville and the other towns that draw from the same source.
Clearly, the RI departments of Environmental Management and Health, and the Water Resources Board are aware of the looming water supply problem. As Stephanie Sloman explains, anyone capable of elementary arithmetic can check this. As she points out, Invenergy is apparently is not one of those.
Recently, Gina Raimondo mentioned that she would withdraw her support for the CREC project if there were any issues. Of course, trouble with the water supply is only one of a myriad of issues each single one of which should suffice for her to make good on that promise.
Not enough water for proposed power plant and future growth

,