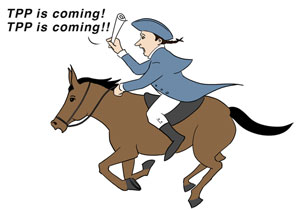 The future is pushing through the gates of congress and it's horrendous. No Homeland Security for this. Remember the classics: Soylent Green & Blade Runner? Well this ain't a movie, folks, but the white hats we need to count on may just be surprising ….
This week, the president is going to urge congress to relinquish their responsibility for fully considering the implication and the intention of international treaties by  "fast-tracking" the Trans-Pacific Partnership Treaty.  With "fast-track" authority, the president, not Congress, would control the legislative process and allow passage of the most secretive piece of legislation in recent history – maybe ever.
The Trans-Pacific Partnership, is a "free trade" agreement that has less to do with tariffs than with changing our world as we know it. Study of hundreds of pages of complex issues would be limited to a few days and debate would be limited to a few hours. No amendments would be allowed, only an up or down vote.  And that vote may be happening as I write this. If the president gets his way, I sincerely believe the Trans-Pacific Partnership, "NAFTA on steroids," could be the coup de grâce for our already feeble government.
Negotiations for the TPP have been going on for the last 5 years, but members of Congress, small business leaders and the media have been shut out. Unlike past treaties, the business of the TPP is BIG business and is strictly limited to the BIGGEST of the big. And their deliberations are being held behind closed doors and chain linked fences with a strong cadre of security police to guard them.
Negotiators consist of representatives from 600 of the largest international corporations and trade officials from countries of the Pacific Rim: Australia, Brunei, Canada, Chile, Malaysia, Mexico, New Zealand. Peru, Singapore, Vietnam and the United States.These are the original 11 members. Recently Japan, the world's largest gas importer, has indicated interest.
It has been touted as simply another free trade agreement to counter the growing exporting power of China, but it is something far greater and grander, since only 5 of the 29 articles in this "free trade" treaty actually relate to trade. It seems to be the ultimate wet dream of the international corporate elite. And, ironically, word is that it may eventually include China as well.
Why NAFTA on steroids? While NAFTA gives authority to international corporations to sue any city, state or country that passes laws that hinder them from doing any kind of business: water rights, food safety oversight, fair labor practices, environmental protection, and responsible financial practices, just to name a few, for financial damages resulting from income lost due to being kept from raping & pillaging people and the planet, (cf. suits in progress in Quebec by a corporation claiming $ billions in lost revenue because of the province's anti- fracking law and the new one that pharmaceutical giant, Eli Lilly just launched: an investor-state attack on Canada's medicine-patent policy. Lilly is demanding $500 million dollars in damages). These are before civil courts now.
Thankfully, doors and chain links and guns are no barriers to people of conscience, and someone inside was appalled enough to start leaking information. According to this source,  if the TPP becomes law, it would create new corporate tribunals made up of lawyers from international corporations. These "judges" would hear the cases and rule on them. If they rule for the corporation, the only way for the judgment to be overturned is  if it is unanimously voted against by of all of the signatory nations.
When the leaks began, a group of concerned organizations got together under an umbrella called openthegovernment.org and sent a letter to President Obama. It is so brilliant that I include the first 4 paragraphs. You can read the rest on their website.
February 28, 2012
Dear President Obama,

As organizations dedicated to government openness, scientific integrity and accountability, we are writing to urge you to increase the transparency of the Trans-Pacific Partnership (TPP) Free Trade Agreement (FTA) negotiating process. Currently, without any public access to even the most fundamental draft agreement texts and other documents, important policy decisions that may significantly affect the way we live our lives by limiting our public protections are being made by executive branch trade officials.

On your first day in office you committed to creating an "unprecedented level of openness in Government." Recently, your Administration co-launched the Open Government Partnership, a multilateral initiative that aims to secure concrete commitments from governments to promote transparency and empower citizens. You also have said that your transparency initiative will extend to the Office of U.S. Trade Representative. Administration officials have repeatedly stated that the administration will conduct the most transparent international commercial negotiations ever with inclusion of all stakeholders to ensure that the TPP FTA will meet your goal of a "high standards worthy of a 21st century trade agreement." We support all these goals.

However, multiple aspects of the current negotiations process utterly fail to meet these standards. Instead of new levels of transparency, the process has instituted unprecedented levels of secrecy. Indeed, the extreme secrecy surrounding the process was lauded by a U.S. trade lawyer and former U.S government trade official involved in decades of negotiations: "This is the least transparent trade negotiation I have ever seen," said Gary Horlick at a Global Business Dialogue Forum on the TPP FTA in late January.

At a minimum, your Administration should provide access to the negotiating texts of the pact's various chapters for all congressional staff, the public, and the press. Such transparency is standard practice for trade negotiations. The World Trade Organization posts negotiating texts on its website for review, and negotiating texts were also made available on the recently-completed Anti-Counterfeiting Trade Agreement (ACTA). However, this practice has not been adopted, to date, in the context of TPP FTA talks. Indeed, to the contrary, parties signed a Memorandum of Understanding 2010 imposing heightened secrecy for the process.
It was signed by 23 organizations, from the American Association of Law Libraries through the Washington Coalition for Open Government. Obviously, it fell on deaf ears. Because President Obama speaks Orwellian: 'openness is …'
By January 2013, even Ron Kirk, Obama's handpicked U.S. Trade Representative quit. He told Reuters that:
"If the contents of the Trans-Pacific Partnership were known, it would not be passed because it would be so unpopular."
And this June , after her repeated petitions to study the treaty were denied, that fearless Senator from Massachusettes, Elizabeth Warren, wrote an open letter to Ron Kirk's proposed replacement, U.S. Trade Representative, Michael Froman concerning the TPP:
" If transparency would lead to widespread public opposition to a trade agreement, then that trade agreement should not be the policy of the United States."
We hoped for so much, in 2008. I now believe that although his appointments of Arne Duncan to destroy public education, sending the Health Care Bill with the Single Payer option to "Bought" Baucus' finance committee, and Summers and Geithner to continue the pillage of Wall street, could be nothing in comparison to the potential of damage of the Trans-Pacific Partnership in trampling on the rights of "we the people" in creating laws to protect ourselves. Could Mr. O's sudden passion for fast-tracking this trade agreement have any connection to his political mama, the newest Secretary of of Commerce? http://www.truthdig.com/report/print/obama_did_it_for_the_money_20130507 Whatever is the reason for his push, this betrayal of the peoples' interests could be his greatest.
Ironically, our best hope, for now, may be the obstructionist 113th congress, bless 'em. But be forewarned, even if it is postponed for this congressional session, the threat of  the TPP will remain.
You can join me in writing letters and calling the president and congress and just bearing witness. Also talk to people and pass the word forward. You'd be surprised how many informed people don't know. Check out MoveOn.org for the October 18th rally at 4pm in Providence.
Get informed – Threats Posed by TPP –  TradeWatch.org
---
| | |
| --- | --- |
| | Read how foreign corporations would be empowered to attack our health, environmental and other laws before foreign tribunals to demand taxpayer compensation for policies they think undermine their expected future profits. |
| | |
| --- | --- |
| | U.S. negotiators are pushing the agenda of Big PhaRMA – longer monopoly control on drugs for the big firms. This would mean millions in developing countries are cut off from life-saving medicines & higher prices for the rest of us. |
| | |
| --- | --- |
| | Read how special investor protections incentivize offshoring by providing special benefits for companies that leave. Plus, TPP would impose limits on how our elected officials can use tax dollars – banning Buy America or Buy Local preferences. |
| | |
| --- | --- |
| | TPP would require us to import food that does not meet U.S. safety standards. It would limit food labeling. |
| | |
| --- | --- |
| | Thought SOPA was bad? Read how TPP would require internet service providers to "police" user-activity and treat individual violators as large-scale for-profit violators. Plus, TPP would stifle innovation. |
| | |
| --- | --- |
| | TPP would rollback reregulation of Wall Street. It would prohibit bans on risky financial services and undermine "too big to fail" regulations. |
Also, I heartily recommend Lori Wallach of Tradewatch discussing the TPP at a PDA event and available on You Tube: http://www.youtube.com/watch?v=PV9tEdMGp-k
There are worldwide threats equivalent to the TPP.
Europe's equivalent is TISA, that unlike US,  has sparked massive protests under the banner of the OWINFS.org:
"The 'Our World is not for Sale' (OWINFS) network is a loose grouping of organizations, activists and social movements worldwide fighting the current model of corporate globalization embodied in global trading system. OWINFS is committed to a sustainable, socially just, democratic and accountable multilateral trading system."
These great people and their organizations, at least, give me hope.
Peace.
Lisa Roseman Beade